I had been waiting for half an hour at Shantaben's house in Juni Ravalwadi, Bhuj, for her to return from the market where she and her husband have gone for the day's business. It's a slightly big but modest hut with terra cotta roof tiles and tarpaulin mixed and matched with time and climatic adversity. There is one humungous room and a kitchen. In the front, is a large courtyard. This doubles up as a storage space for the fruit and vegetable stock for trade.
At present there are ceiling high stacks of cartons of Kutch Kesariya mangoes that I'm looking at from the corner of my eye, greedily praying for generosity or even pity from their owners. There is a tiny toilet and bathroom on the far right corner of the courtyard. Beside that is a passage that connects this house with the next. That is where Shantaben's daughter lives.
I'm sitting besides an elderly lady on the shaded courtyard floor. The more I try to strike a conversation with her, the more suspicious she seems to get. Till she calls Shantaben who assures her of my credentials, a sansthawala. She then ushers me into the single gigantic bedroom cum hall in the house. A blaring box television on one corner, a wooden double bed on another corner. Miscellaneous boxes, objects, piles of clothes, toys, a kid's cycle are scattered along the periphery of the room and packed in the attic above. It is a tall room. I've been offered a sun-baked plastic chair to sit on and a man sitting 2 feet from the television screen is pampering my small talk. I learn he is Shantaben's older brother. A few kids are curiously stealing glances towards me between gulping down what's playing on the TV.
Shantaben arrives huffing from the heat outdoors. She is composed even as she hurries in and leads me to the empty house next door. This is not the first time I am meeting her, but the first time I am meeting her alone.
In the room next door we're sitting on plastic chairs opposite each other, there is one window that is letting in light in the otherwise dingy dark room. Two infants are rolling on the floor playing. If you have begun to form ideas about Shantaben from this winding description of the surroundings, hold on. There is a lot to Shantaben than what meets the eye. Her gentle composure and chosen silence anchors the room down in a way unlike many.
Shantaben was born and raised at Juni Ravalwadi, a peri-urban slum in Bhuj, Kutch. She never got the opportunity to attend school, and was married to a physically disabled man in Shivramandap slum at the age of 15. Her elder brother had always been her guardian. A defining moment in Shantaben's life occurred when she became the first woman to participate and voice her opinions at the traditional justice redressal committee of her community.
In a landmark trial, Shantaben demanded to uphold her marriage and asserted her rights as a wife and a mother of two. Winning the case marked the onset of an extremely challenging phase in her life. While her husband sold vegetables at the market, Shantaben went door-to-door with her children to ask for work. However, none of this deterred her from helping other women in her community. The slum where she lived was largely cut-off from most amenities such as healthcare, transportation, electricity, and water. It prompted her to store medicines in her house for her ailing neighbours.
She learnt to dress wounds from a pharmacy in Bhuj so that she could give first aid to her community members before they reach a hospital. In small but significant ways, she stood by them. She even accompanied them to the market to help them bargain and save money. The women of the community, in turn, stood by each other during the times of adversity.
The interview is interrupted midway by a younger woman with a baby at her hip and a child by her side. I sense that she and Shantaben are talking (in the local dialect) about the young boy. There is a tinge of restlessness in Shantaben's unusually stern voice. She's trying to convince the mother to send the boy to a hostel away from Juni Ravalwadi. Turning back, she tells me,
"I'm telling her to send her child to the hostel in Madhapar. She can visit whenever she wants. The boy's future will be ruined if he stays here. No one wants anyone to make it in life around here."
When the first self-help group (SHG) was being formed in Ravalwadi, Shantaben was neither interested nor did she feel she was eligible due to her lack of education. But the women of her community declared that they would form an SHG only if Shantaben would join and lead them. This catalysed her emergence as a community leader. She recounts with wonder the time when she went to open the bank account for the SHG but did not know how to sign. It was a memorable moment for her as it pushed her to learn signing her first name, 'Shanta', and open the account.
Shantaben began to attend training sessions by Kutch Mahila Vikas Sangathan (KMVS) on social perspectives, gender, self-awareness, and paralegal aid. This enhanced her confidence and awareness about women's rights. She started attending these sessions more regularly. She also expressed her readiness to advocate for women, not just in her community, but elsewhere too.
"Why just for the women of my community, I am ready to fight for other women in different communities. The paralegal training has equipped me to fight for my rights with the help of law."

– Shantaben Vaghela
Shantaben played a crucial role as a mobiliser in the Jamin Awas Manch initiative of KMVS. It began with the aim to mobilise urban slum-dwellers to claim ownership rights of their long-inhabited lands. During the pandemic, she along with others went door-to-door to test for infection and provide medicines. They would also rescue women from domestic violence. She convinced her community to take vaccines despite their initial scepticism and outright hostility towards it. This resulted in 100 people getting vaccines. She even gave refuge to many women who ran away from their houses and assisted them in gaining custody of their children through the '181' helpline.
An event that Shantaben recalls with passion is when she successfully mobilised her community to protest at the local councillor's residence for water connections in every Ravalwadi home. Because of this protest, the police temporarily locked them up. Despite that, the councillor agreed to the community's demands, and now all of Ravalwadi enjoys a water connection. They have now demanded for a community hall for the locality.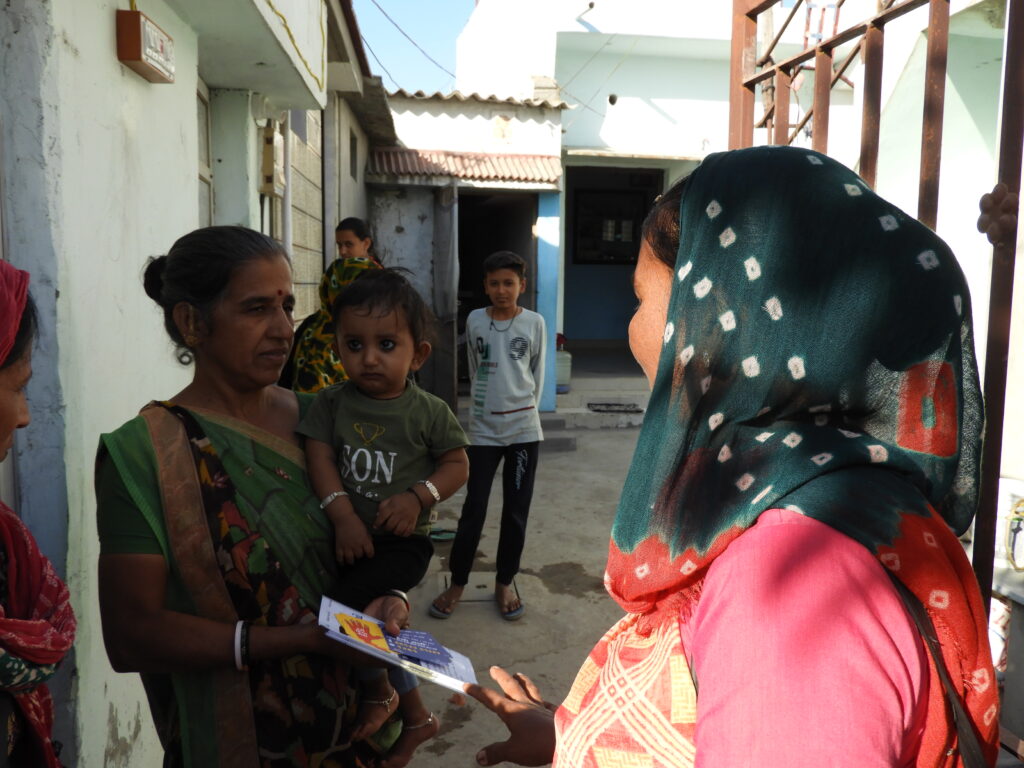 One of her major accomplishments was the establishment of the Takrar Nivaran Centre (Conflict Resolution Centre) in her community. The traditional justice redressal systems in the Devipujak community were burdensome and costly. On an average, one had to spend anywhere between 20 to 25 thousand rupees to have their case heard. More importantly, women were not allowed to participate and had no voice, even when the cases concerned them.
Comprising three women and three men, all trained as paralegals, the Takrar Nivaran Centre hears community cases and offers resolutions. This is free of charge. Shantaben, an active member of this committee, estimates that the centre has helped people save approximately eight thousand rupees in its three years of operation.
The Takrar Nivaran Centre comprises three women and three men, all trained as paralegals who hear cases of the community and offer resolution free of charge. According to Shantaben, an active member of this committee, in the past three years of its existence, the centre has helped people save an approximate eight lakh rupees.
Shantaben acknowledges that women in her community still face disrespect within their own households. However, she believes that the centre has at least created a space where women and girls are not only heard but are also asked about their desires. Eager to continue the development of the Devipujak community, she plans to work with the young girls and boys. She envisions the Takrar Nivaran Centre becoming a reliable place for conflict resolution in the community. Her dream is to see every Ravalwadi resident gain ownership rights over their land. With particular emphasis on ensuring women become equal owners.
---
All photos of Shantaben are from a campaign on women's safety in urban Bhuj