In a world where job-hopping has become the norm, Mukesh Ji stands out as an exceptional individual who has chosen a different path. For the past 12 years, he has poured his heart and soul into working for a non-profit organization, Shram Sarathi. His unwavering dedication, resilience, and impact have not only transformed the lives of many but have also left an indelible mark on the organization. He works to make finance accessible to migrant workers.
Early Challenges and Determination
Mukesh Ji's journey towards becoming a pillar of Shram Sarathi was not conventional. He started with humble beginnings, spending years as a local retailer for Airtel, serving the communication needs of his community. Simultaneously, his passion for the environment led him to collaborate with the forest department in a staunch battle against illegal deforestation in the Aravalli Hills. During this time, he witnessed the hardships faced by migrant workers, which ignited his determination to make a difference.
Family Ties and Connection to the Land
Besides his professional life, Mukesh Ji is a dedicated family man and farmer. As a father of two beautiful daughters, he understands the importance of securing a bright future for his family. Before dawn, he is often found tending to his farmland, cultivating crops and nurturing their growth. This connection to the land has only strengthened his commitment to the rural community and their well-being.
Influence on Migrant Workers
One of the defining aspects of Mukesh Ji's work is his remarkable influence on the migrant community. His empathetic nature and deep understanding of their struggles have made him an invaluable source of support. And a beacon of hope for those in need. Through financial counseling, organizing inclusion meetings, and addressing over-indebtedness, he tirelessly advocates for migrant workers' rights and empowers them with financial knowledge and resources.
An illustrative example of his impact is the story of Ramesh, a migrant worker burdened by high-interest loans. Ramesh felt trapped, unable to escape the cycle of poverty. When Mukesh Ji got to know about his situation, he intervened to provide guidance by sitting with Ramesh and listening to his concerns. He helped him restructure his debts and access low-interest loans. Through his support, Ramesh regained control of his finances and built a better future for his family.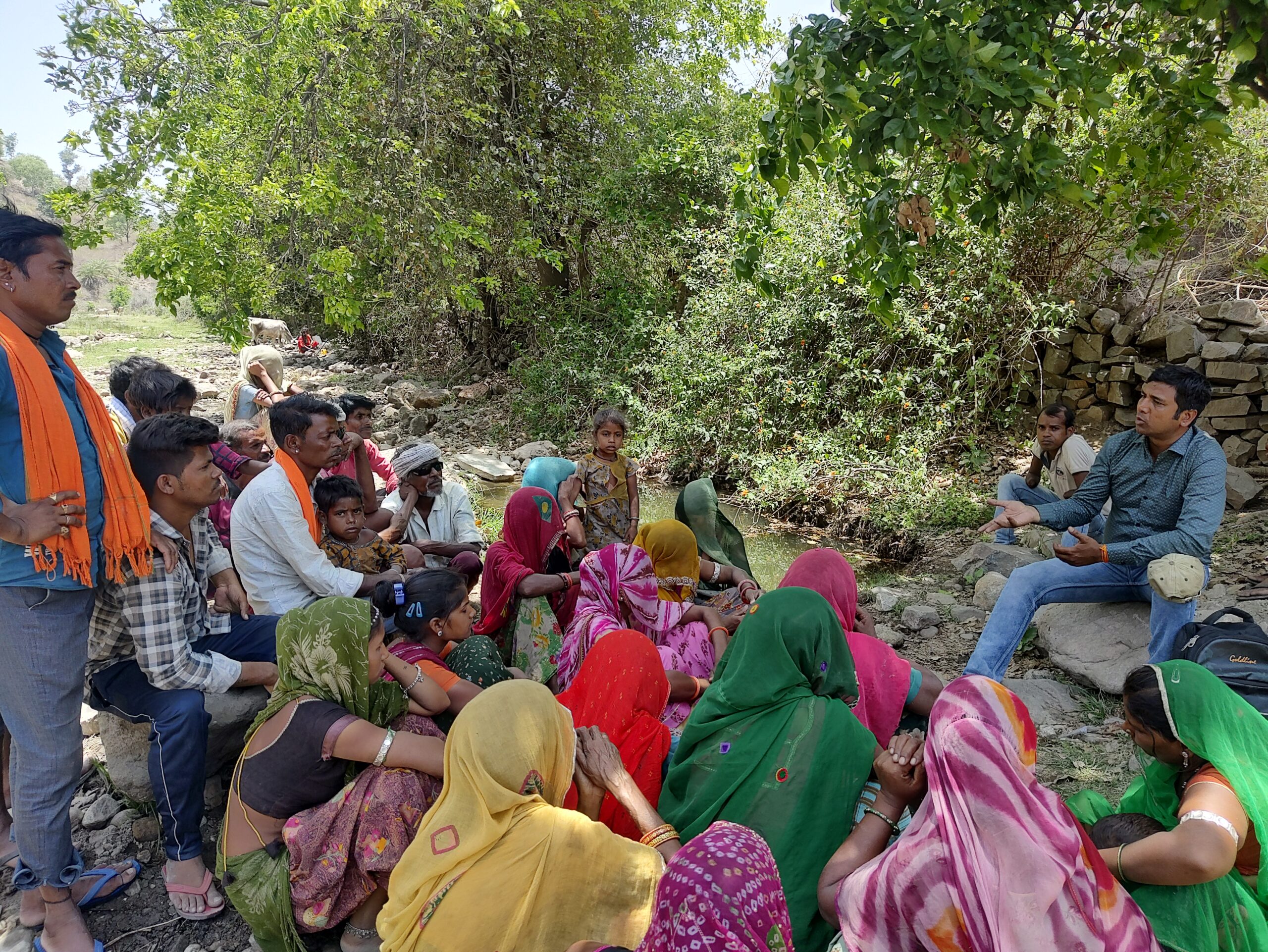 An Indispensable Pillar of Shram Sarathi
Within Shram Sarathi Mukesh ji's unwavering commitment and positivity have made him an invaluable team member. He serves as a guiding light, inspiring others to embrace the organization's mission of creating a more inclusive society. His contributions extend far beyond his role, as he consistently goes above and beyond to ensure the success of all initiatives.
"There was a 68-year-old man without any identification document, living under extreme conditions. I helped him in getting Aadhar, voter id and PAN. It was a cumbersome process, but ultimately I'm happy that he is now receiving pension."

– Mukesh ji telling about someone whose identity cannot be revealed
A Day in Mukesh Ji's Life
Mukesh Ji's unwavering dedication starts as the day begins. After tending to his lemon plants, he dedicates himself to community service, organizing financial inclusion meetings and counseling families. He is deeply committed to understanding the credit requirements of the communities and ensuring their access to essential financial resources. Returning to the office, he cherishes the camaraderie with his colleagues, sharing field stories over tea. As the day ends, he seamlessly transitions into his roles as a father, husband, and son.
One poignant fieldwork anecdote involves Champa Ram, a vulnerable migrant worker on the brink of poverty. Mukesh Ji went the extra mile to help Champa Ram secure a loan to start a small business, ultimately turning his entrepreneurial dream into reality.
A Lasting Legacy
In the vast tapestry of human stories, there are people like Mukesh ji who stand out. Illuminating the lives of others with their extraordinary dedication and compassion. His journey from a local retailer and environmental advocate to a champion of financial inclusion is a testament to the power of perseverance and empathy. His selfless efforts have brought about significant change in the lives of migrant workers in southern Rajasthan. It serves as a compelling reminder of the incredible impact that one person can have on building a more inclusive and prosperous society.
Through genuine care, unwavering commitment, and real-life success stories, Mukesh Ji inspires others to take action and make a difference in their own communities. As his legacy continues to blossom, it shines as a reminder of the profound change that can be achieved through compassion and selfless dedication. Mukesh Ji's work and the lives he has touched underscore the potential in each of us to contribute to a better world.