We are lucky to be supported by our advisors, mentors and trainers who are extremely passionate towards exposing young people to social issues that India is facing and involving them in nation building
Dr. Nachiket Mor
He is the inspiration behind the India Fellow program. He was the leading force behind the ICICI Fellows program. Nachiket has experience in the areas of finance, healthcare and education; as a practitioner as well as systems thinker.
Currently he is designing national and regional health systems. He is also the visiting scientist at the Banyan Academy, taking a course on mental healthcare. Prior to this, he served as the board chair of CARE India and a member of board of Reserve Bank of India and CRISIL. He was also heading the Bill And Melinda Gates Foundation in India amongst many other things.
Dr. Rajeshwar Mishra
A social psychologist, Dr. Mishra started his career with the A. N. Sinha Institute of Social Studies and then assumed an international assignment leading an Indo-Dutch project – North Bengal Terai Development. There, he spent long years before establishing Center for the Development of Human Initiatives (CDHI), which he still mentors and nurtures. His interests lie in field based action research through participatory pedagogy. He has worked as a consultant and adviser to many international organisations. A prolific author, he has published several books, articles, proposals etc.
At the fellowship, he guides the pedagogy and also conducts workshops with the team and alumni on reflective writing and understanding communities.
Manali Shah
Mana is a facilitator of meaningful meetings and participatory strategy. She has worked with various organizations including BullzI Inc, AJK Mass Communication Research Centre, Friedrich-Naumann-Stiftung für die Freiheit, GIVE Network (Voluntary Services Overseas) and Sir Ratan Tata Trust. In her own words, "my focus in every engagement is to create and sustain alignment within the group about the larger purpose, the values, the vision, stakeholder participation and overall process management".
At the fellowship, Mana conducts regular workshops with the team and fellows on facilitation and fueling meaningful conversations and spaces in our respective community and teams.
Mohit Satyanand
He is a multi-potentialite. After a masters from Delhi School of Economics, he joined Hindustan Lever, establishing India's first snack food brand, Crax. From 1981-89, he was with Theater Action Group (TAG), where he acted, handled sound and light design and the business end. Since 2009, he is with the theatre group, Wide Aisle.
In 1990, he co-founded Teamwork Films that focuses on performing arts, and produces several arts festivals, including the Jaipur Literary Festival. Mohit is consulting editor, Outlook Money. Mountain-lover and life-long trekker, recently taken to half-marathons and angel investing.
At the fellowship, Mohit inspires our fellows towards better story telling and impactful communication through his workshop.
Sachin Sachdeva
He is director of the Paul Hamlyn Foundation, India since 2011. Previously, he was with the Sir Dorabji Tata Trust where he was responsible for making grants under the health portfolio. He set up ARAVALI, a development support organisation for the govt. of Rajasthan in 1997 and was its executive director for over nine years. He also worked in Afghanistan from 2003 to 2005 for the Aga Khan Foundation. Sachin is the founder of the Gramin Shiksha Kendra an organisation working on education and development in Sawai Madhopur, Rajasthan.
Sachin is the force behind us starting a direct action initiative, called the Bundelkhand Action Lab. He is also a strategic advisor to the fellowship.
Inir Pinheiro
Inir is the founder of Grassroutes Journeys Pvt. Ltd where his aim is to trigger a more conscientious society through rural engagements. He is a social entrepreneur involved in experiential learning programs, responsible tourism, micro-entrepreneurship development and livelihoods. Inir has been recognized amongst fifty social entrepreneurs changing India by Outlook Business. He has also been awarded the Karamveer Puraskar for social justice and citizen action in 2008 by ICONGO & Kemka Foundation. 
At the fellowship, Inir conducts workshops on social enterprise and livelihoods. A true believer, dreamer and nurturer, he is friendly to all, except the camera.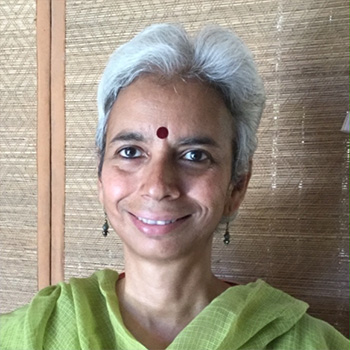 Sushma Iyengar
Sushma founded Kutch Mahila Vikas Sangathan, the well-known women's collective in the late eighties. During the past four decades, she has founded and led organizations in the area of gender justice, indigenous cultures, traditional livelihoods, local governance, and post disaster rehabilitation. Her publications include Picture This! Painting the Women's Movement (University of Chicago, 2013). She is the lead curator of the exhibition Living Lightly – Journeys with Pastoralists. It is an outcome of her longstanding interest and experience with indigenous communities, including nomadic pastoralists.
In the fellowship, Sushma talks to fellows on empowerment and has helped us build the Kutch ecosystem with partners and mentors.
Mihir Mathur
He is the founder director of DESTA Research LLP a research and consulting firm specializing in applications of systems thinking and dynamics modelling with an aim to develop systemic solutions. His expertise is in systems thinking, system dynamics modelling, group model building, climate change adaptation and natural resource management – which is also what he engages our fellows with.
Mihir began his career in banking and stock markets, and moved into the world of sustainability in 2009. He worked in the climate change adaptation programme of Watershed Organisation Trust, before moving to The Energy And Resources Institute (TERI). He has written book chapters, journal papers and presented his work in several conferences worldwide.
Ajit Kanitkar
He is a senior advisor and researcher at VikasAnvesh Foundation, Pune. Prior to this, he was a programme officer at Ford Foundation and Swiss Agency for Development and Cooperation, both in New Delhi. He has also been a faculty member at Institute of Rural Management, Anand, his alma mater. He is currently a visiting faculty at Indian Institute of Management, Udaipur. Additionally, he is also associated with a number of civil society organizations as a volunteer and pro-bono consultant.
He has published extensively in professional journals and contributes regularly on diverse themes related to the developmental sector. Ajit has co-authored books like Farming Future: Emerging Social Enterprises in India. At the fellowship, he introduces our fellows through his workshop on the country's civil society landscape.
Shalabh Sahai
He is the co-founder of iVolunteer is an Institute of Rural Management (IRMA) alumni. iVolunteer was born as the first and only one of its kind in India. A social enterprise that promotes volunteering for Indians as well as foreign nationals. iVolunteer houses the fellowship and Shalabh has always been available, asking all the right and hard questions as an advisor to us.
He founded JobsForGood in 2007, with a clear objective of enabling social enterprises to leverage human capital towards their mission. His next intra-venture was the iVolunteer Awards in 2012, that aims to inspire by example. Currently, Shalabh is busy setting up the JSW Fellowship program in western India.
Bindu Ananth
She is the president of Dvara Trust and chairs the boards of IFMR Capital and Finance Foundation. Bindu was head of the new product development team within the ICICI Rural Banking Group. She has a masters degrees from the Institute of Rural Management, Anand and John. F. Kennedy School of Government. She is a fellow of the Global Economic Society. Bindu is also a member of the Product Advisory Group of CGAP, FICCI task force on Financial Inclusion and RBI committee on Comprehensive Financial Services.
At the fellowship, she helps our fellows understand financial inclusion and rural finance.
Dr. Sudha Kothari
She is one of India's most acknowledged authorities on self help group (SHG) federations in the country. She holds a Ph.D. in sociology and has a rare blend of strong grassroots and institutional experience. In 1993, she cofounded Chaitanya, a non profit organization which pioneered the SHG federation movement in Maharashtra. It subsequently partnered with programs like Mahila Arthik Vikas Mandal (MAVIM) and National Rural Livelihood Mission (NRLM) and the work has laid foundation to policies in the space of financial inclusion and women led enterprise development.
Chaitanya has been hosting fellows since our inception and Sudha Tai has always encouraged our fellows and been an eager advisor.
Rajiv Khandelwal
Rajiv is the co-founder of a consortium of organzation like Aajeevika Bureau, Basic Healthcare Services and Shram Sarathi in south Rajasthan. Over the course of his thirty year career, he has held leadership roles in a range of non-profit organisations. He has implemented programmes, conducted research and provided advice and guidance to non profits, donors and govt. in Rajasthan. He was named an Ashoka Fellow (2005) and India Social Entrepreneur of the Year (2010).
At the fellowship, we trust him with opening up our fellows, cohort after cohort to the notions of labour rights, migration and social inclusion. He has also been an encouraging support to the team.
Ashish Shrivastava
He is the founder of Shiksharth, that works closely with conflict affected children and towards improving quality of education in tribal areas through contextual education solutions and approach. As a communications engineer-turned-education professional passionate about serving in rural areas, Ashish has over fourteen years experience working across multiple domains using technology and education. He is also an Acumen India Fellow and A Wipro Foundation Fellow.
Ashish is also a full time volunteer and is associated with movements like the Daan Utsav. At the fellowship, we look at him to guide our fellows in understanding conflict and role and state of education in India.
Dr. Aquinas Edassery
She is the founder of Swasthya Swaraj. At sixty one years of age, Dr. Aquinas took up the most challenging assignment of her life after her retirement. She went all the way from working in Bangalore's St. John's hospital to the forests of Thuamul Rampur block, of Kalahandi region in Odisha to serve the neediest people. It is currently active in seventy five villages and helps more than twenty thousand people in the community. Women in these villages are also being trained to provide primary healthcare services to the people.
Our network of health organizations is thanks to her introductions and we count on her to help our fellows look at healthcare as a key thematic area of development.