Do you have what it takes?
India Fellow is a transformative social leadership program for young Indians, who are ready to immerse in grassroots realities. It is a unique journey of self discovery and finding one's true calling
Understand The Journey Better
SEE
Peep into the fellow life
LISTEN
To our mentors who nurture
"India Fellow Social Leadership program helps young people become socially conscious leaders of tomorrow and in the process helps them discover what they are truly meant to accomplish in life. In the 18 months that follow, the India Fellows spend time working full time on demanding host assignments in challenging setups, recording observations and reflections, complete training assignments and at the same time engage deeply with their cohort and mentors. Just like Samundra Manthan, it takes grit, courage and determination to go through the India Fellows program. But in the end these will be the most memorable 18 months of their lives" … says Rahul Nainwal, Co-Founder
We are a network of 237 young Indians with common values and experience of rigorous grassroots work, with diverse professional skills. A majority work with civil society organizations, leading various programs. Some have started their own social enterprises, work in policy think-tanks and bureaucracy as well as with foundations and corporations – at crucial junctions of Samaaj-Sarkaar-Bazaar.
Places Our Fellows Have Worked In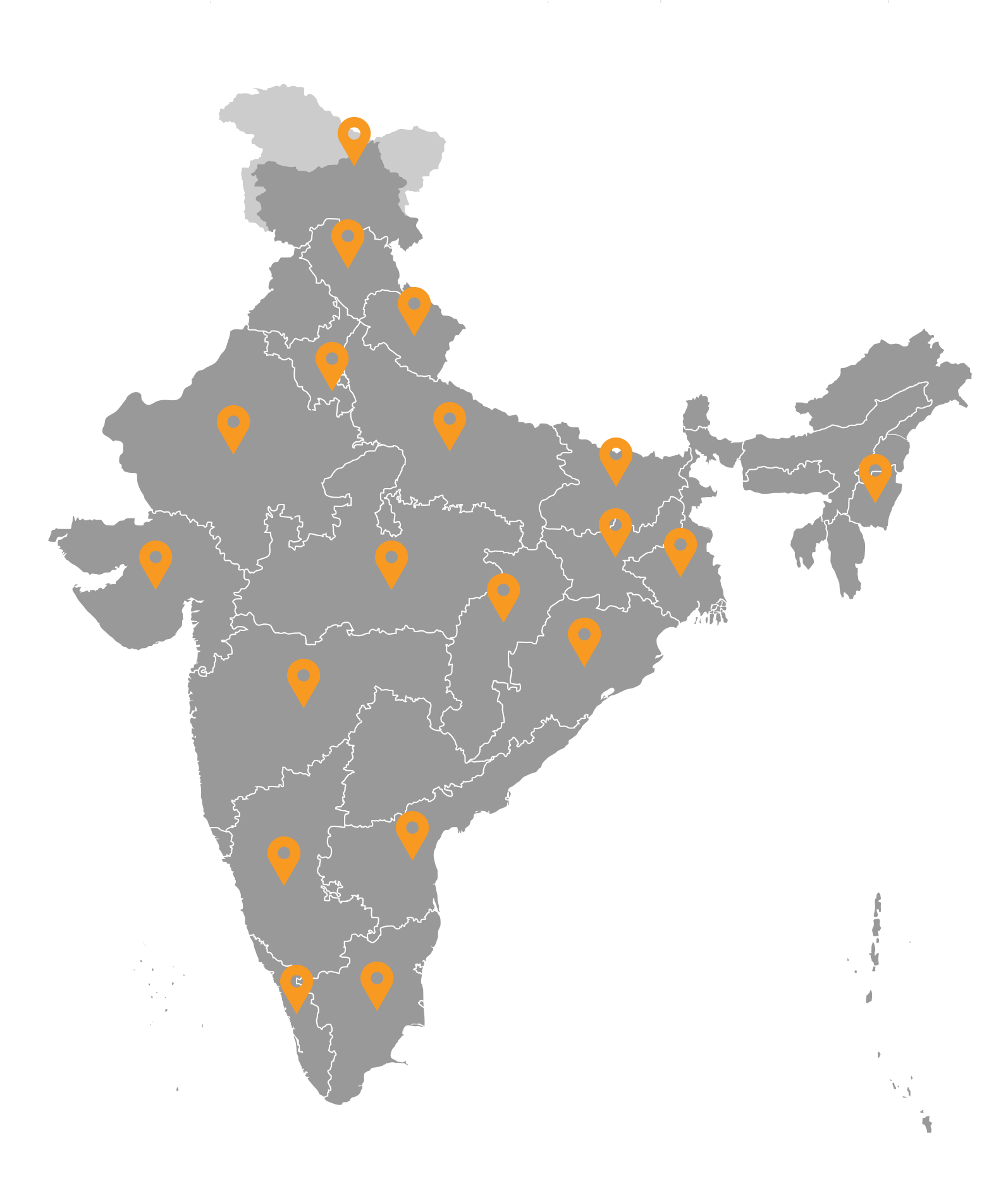 Himachal Pradesh - 1 Partner - 6 Fellows
Ladakh - 1 Partner - 1 Fellow
Uttarakhand - 4 Partners - 7 Fellows
Delhi NCR - 8 Partners - 12 Fellows
Uttar Pradesh - 6 Partners - 24 Fellows
West Bengal - 1 Partner - 1 Fellow
Orissa - 10 Partners - 22 Fellows
Bihar - 9 Partners - 21 Fellows
Jharkhand - 2 Partner - 4 Fellows
Madhya Pradesh - 6 Partners - 17 Fellows
Chattisgarh - 4 Partners - 11 Fellows
Rajasthan - 10 Partners - 36 Fellows
Gujrat - 9 Partners - 21 Fellows
Maharashtra - 15 Partners - 40 Fellows
Karnataka - 1 Partner - 3 Fellows
Kerala - 1 Partner - 1 Fellow
Tamil Nadu - 5 Partners - 5 Fellows
AP/Telangana - 5 Partners - 5 Fellows
The selection of fellows, their training, mentoring and placement with a host, as well as nurturing of the larger commune requires a lot of love, care and resources. Every financial contribution, no matter what size, goes towards this. If you believe that communities like ours should continue to grow, please make a contribution.