While working in Bhuj, Kutch, I have come across many women wearing bandhani prints. Whether in office or when I meet them outside, at their homes. After seeing it repeatedly for a few months, I got curious to know the process of how it is made. On one of the Sundays, my flatmate, who works with Hunnarshala, asked me to join her in meeting and talking to the Bandhani artisans. I grabbed this opportunity to learn about the craft.
Qasbi, earlier known as Knots & Dots, is an enterprise run by two brothers. Their family has been into bandhani craft for generations here in Kutch. Both the brothers were kind enough to let us in and show us how it is done.
Step 1 – Choosing The Right Fabric
Step 2 – Washing and Deguming
After choosing the fabric, it is thoroughly washed for deguming in hot water to make the fabric starch free.
Step 3 – Folding and Stitching
Bandhani is mainly done in a matrix or symmetry form. In order to do that, one has to fold the fabric into two or more layers and stitch along the edges to keep the layers together for tracing or printing.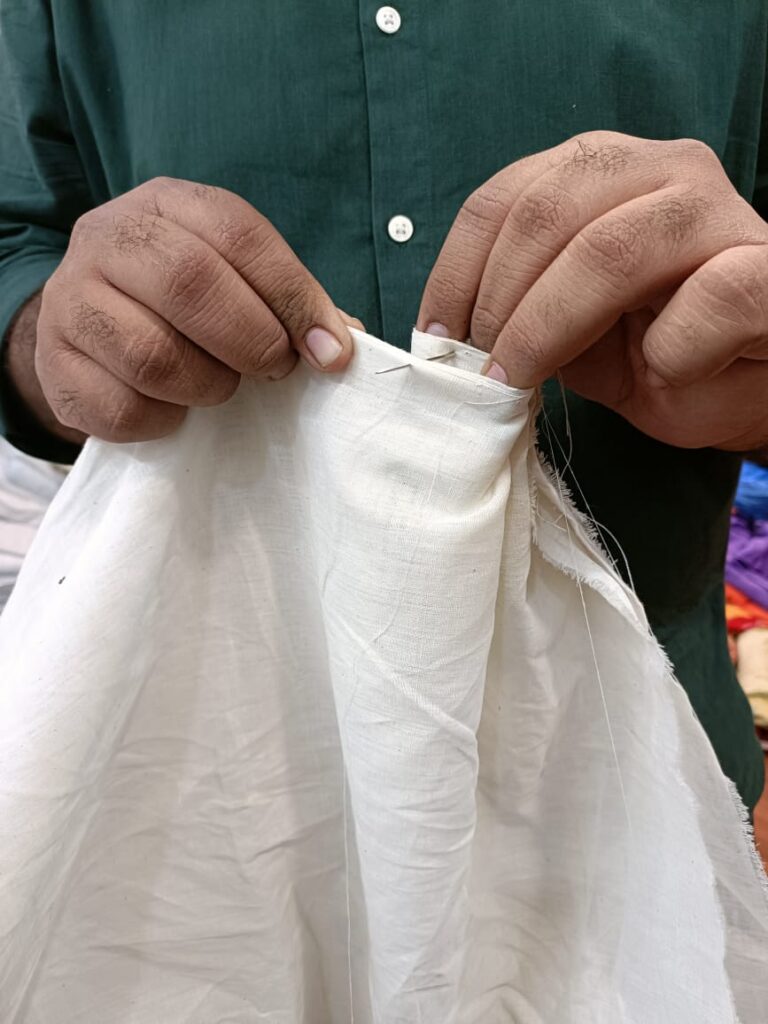 Step 4 – Tracing
They put the folded fabric on a flat table, to trace the design. This is done through a plastic sheet that is prepared with the pin-holed pattern of the design on it. It is transferred on fabric by rubbing a piece of cloth over plastic. The cloth is dipped in a mixture of kachcha dye (green in color), water and detergent.
Step 5 – Tying
Women tie these dots using a copper nail, a cotton thread, and a glass tube. It is done carefully following the pattern traced on the fabric. In many areas of Bhuj, especially the urban slums, women work on Bandhani after finishing their household chores. During my meetings with self-help groups, I have seen many of them tying it while interacting with others. It helps them earn an extra income to run the household. Since the nature of the work is home-based, they don't have to worry about going anywhere and can do it in their own time.
Bandhani can be tied with two techniques:
Sarkam – Done on the marked designs where there are no gaps between the dots and is rather, a continuous line or pattern
Bharti – This one is filled with dots that are knotted. I was also told that the artisans who ti e Bharti don't do Sarkam and vice versa.
Step 6 – Dyeing
The knotted fabric is then immersed in a liquid of dye, usually made from natural ingredients such as indigo for blue, madder for red or turmeric for yellow.
Step 7 – Drying
The fabric is removed from the dye mix and is spread under the sun to get dry.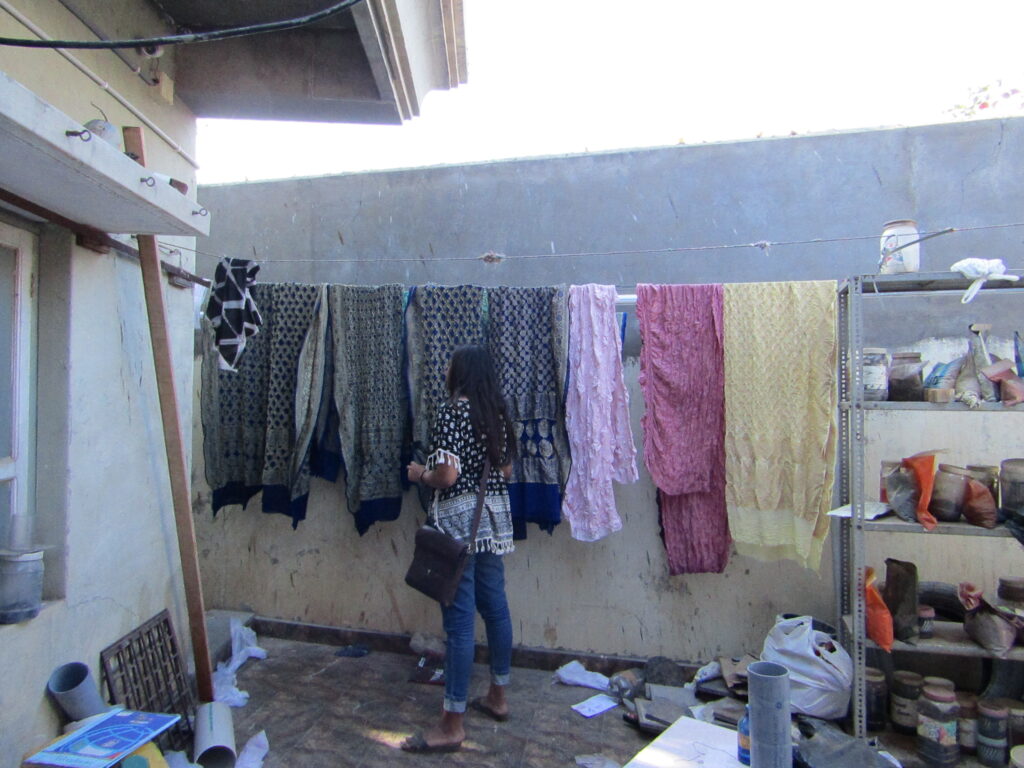 Step 8 – Unknotting
Once the fabric has dried, the knots are carefully opened, revealing the lighter-colored, undyed patterns.
Step 9 – Fixing The Color
The fabric is then steamed or boiled to set the color permanenetly.
Step 10 – Finishing
This includes washing, ironing and get the cloth ready for use.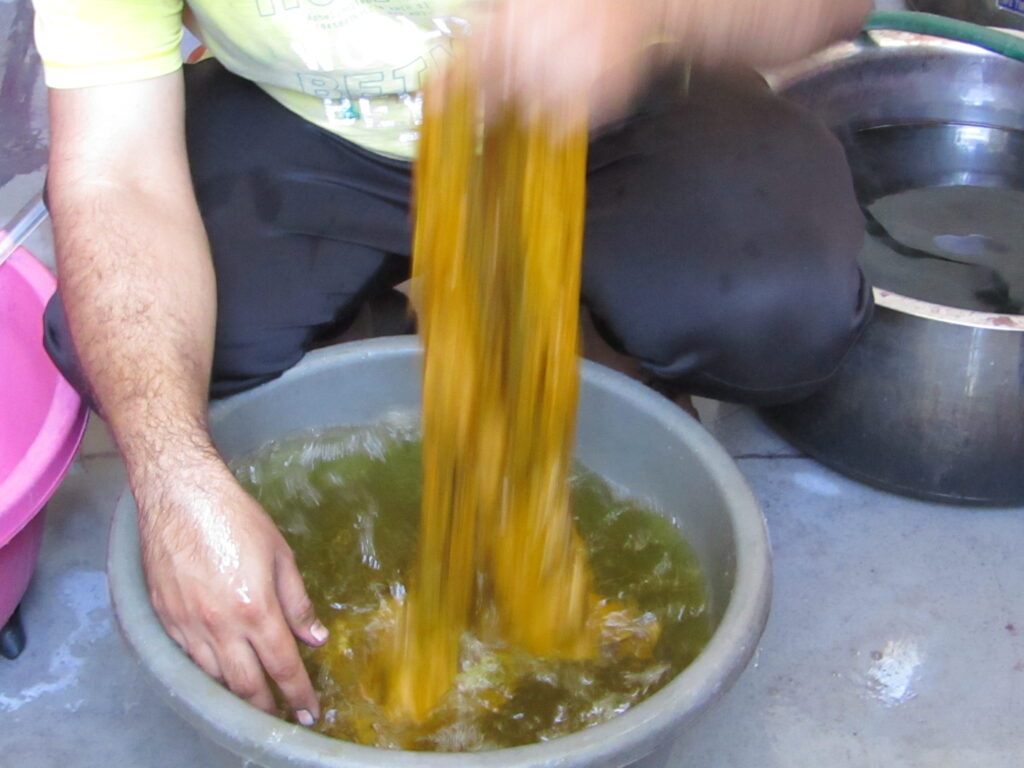 This entire process is usually repeated several times to create more complex and intricate designs. The final product, as most of you may have seen, is a unique, brightly colored fabric with patterns. These are used on different kind of apparels and home decor items.
I'd like to thank Talha and Fahed, the two brothers who walked us through all the steps slowly and patiently. During our interaction, they said that the craft has a huge scope to be sold worldwide. However, due to its limitation in terms of colors like red, pink, blue and yellow, it is worn only on certain occasions. These two are determined to make this craft more popular and accessible so that people in all households can wear it. When the demand increases, it will lighten up several artisans' homes.