Since the day I started working with the Centre for Pastoralism (CFP), I have been travelling more frequently to new places. At CFP, we have divided the locations of our work with the pastoral communities, based on the climate/geography. The Himalayas, Semi-arid or Western India, and the Deccan region. The states of Himachal Pradesh, Uttarakhand, and the union territories Jammu and Kashmir, Ladakh come under The Himalayas. The states Gujarat and Rajasthan come under Western India or Semi-Arid regions and the states Maharashtra, Telangana and Karnataka come under Deccan.
Baroda
My first official field trip was to Baroda. This was to meet a few industrialists who work with wool. One of the main projects that CFP is working on is to create a value chain for the indigenous wool also known as Desi Oon (countryside wool). It is coarse and unsuitable for the carpet and textile industry. So, we at CFP are working on creating the value chain for Desi wool, and in the process, we are meeting with lots of industrialists and educating ourselves more on it. In this process, we also wanted to train people in the community on various things related to wool. In between, I got a chance to visit the Baroda's famous Laxmi Vilas Palace.
Mumbai
CFP sponsored a felting workshop in a village called Kadoli, near Belgaum, Karnataka. I went there, to learn felting and document the whole process. The day of travel came, and first I took a flight to Mumbai. It was June, and the rains had just reached Mumbai probably a bit earlier because of the Biparjoy cyclone. My train to Belgaum was late at night, so I thought about going around Mumbai and seeing the city.
I went to the Gateway of India because I have fond memories of this place. Mumbai was the first city I went to, as a child and I have this photograph of my parents, my sister and me standing in front of the Gateway of India. I always wanted to recreate it with my parents but didn't get a chance yet.
Belgaum
At first, honestly, I did not find going to Belgaum interesting because of multiple reasons. One of the main reasons was that I belong to a place in Andhra Pradesh that shares a border with Karnataka, and I felt that I know everything about the community I am going to work with. That I'll have nothing new to learn.
I took a train from Mumbai that night and reached the next morning. Varsha, who was coordinating the workshop, sent me the address and Google map location of the place where my stay was arranged. This was an old colonial-era Bungalow in the camp area of Belgaum. Even though it's in the middle of the city, the trees around the bungalow make this building look eerie and secluded. Here I met Maya, a German lady who is a trainer and would be teaching felting to women from the local community. She has been living in India for the past 14 years, and from her words, I got a sense that she is liking it here.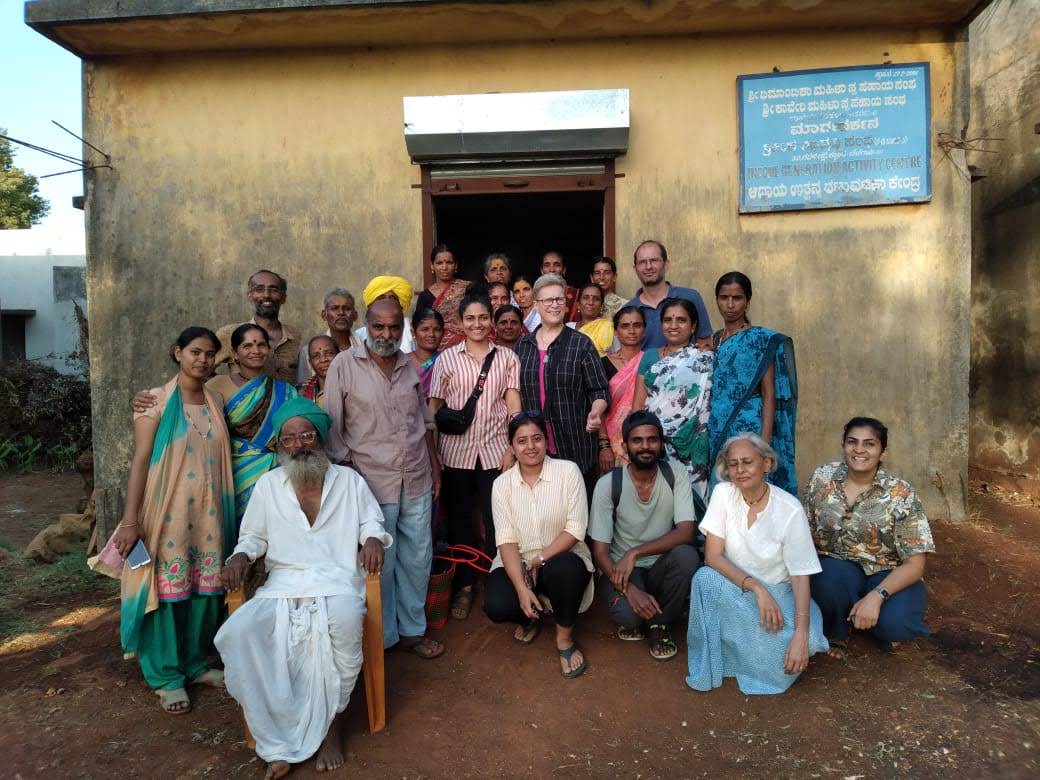 Post a quick breakfast, we all left the village of Kadoli. The road to reach here was neat, and one could see the Western Ghats in the distance on one side. The roads, the scenery, and the sight of the village itself were familiar landscapes for me
After the opening ceremonies and the speeches by the local leaders, the actual training started. The women of Kadoli, who were attending the workshop, speak Kannada and Marathi, and Maya was teaching them in English. So we needed a translator, and Rashmi took up this task. She is a textile designer based out of Bijapur or Vijayapura. After getting married, she shifted her entire business to Bangalore and was visiting her in-laws in Belgaum. She came to know about the workshop and decided to attend it. I also supported the group with translation whenever Rashmi was not around and I did pretty good at it.
Food In Deccan
We broke for lunch, and the women cooked us food which included the rotis or flatbreads made from millets like Jowar (Sorghum) and Ragi (Finger millets). There were a few other things which I could not recognise and upon asking, the women told me that it was 'Badineykayi Uppinakayi' or an Aubergine (Brinjal) pickle. I was surprised because I had never heard or tasted it before. After the food, we were served 'Majjige' or buttermilk made from Goats' milk. I was unaware that people in this region drink goat's milk.
Also read: Flavours Of Marathwada
The town of Belgaum is famous for its sweet dish 'Kunda', made out of Buffalo milk and sugar. I tasted it from a shop called 'Purohit Sweets' in camp area and when I asked the owner of the shop about what makes the Belgavi (another name of Belgaum) Kunda famous, he said that the buffaloes of this region grazes on a variety of plants and grass in the surrounding Western ghats. That gives the milk a grassy or earthen flavour, which makes the Kunda unique.
Belgaum is also famous for the local eateries called 'Khanavalis'. Even metropolitan cities like Bangalore and Mumbai have these Khanavalis which serve 'Uttara Kannada' cuisine.
Mama, Belgaum And Me
The second day of the workshop was more intense. I was taking pictures and videos of the women learning felting and creating beautiful products out of wool. In the second half, I decided to venture out and learn more about the village. There was an experienced person whom everyone called 'Mama'. He took me on a village walk, and kept getting excited every time on seeing grass or small plants. He would pluck a few straws and tell me it's name in Kannada, its properties as well as its benefits to sheep and goats. In about an hour, he managed to recognize about 8 varieties. This was an enriching experience.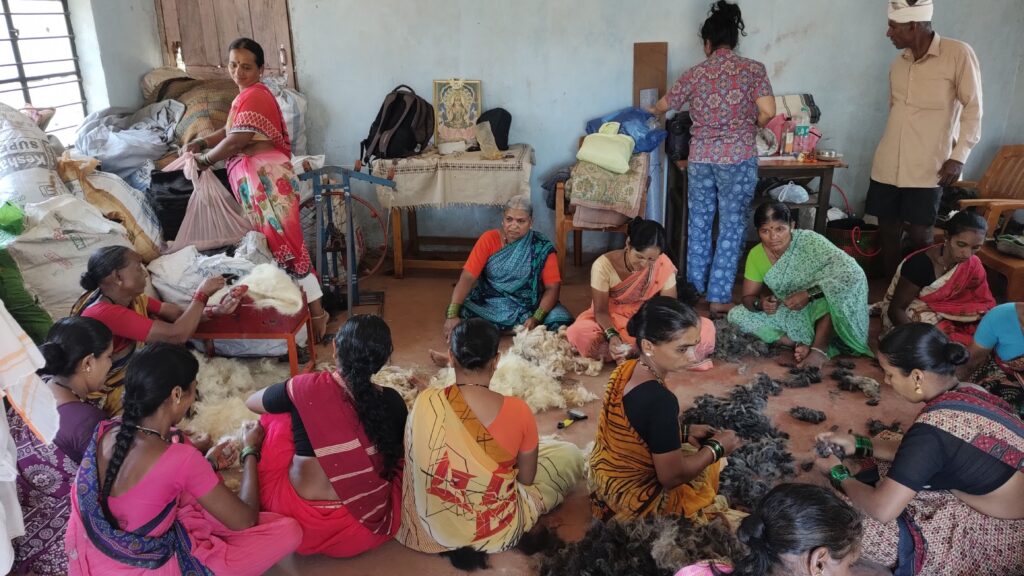 ---
In two days here, I learnt a lot of new things about the place and people. For example, the local deity called 'Renuka Yellamma' is a familiar goddess in my hometown but I never knew that she was popular in the Kuruba communities of Karnataka as well. Not just this, I was unaware of the fact that 'Gongadis' or the Woollen blankets made out of the thick, coarse Deccani wool are all made here. Or that the shepherds from Belgaum migrate to Hampi for fodder and come back every year.
Once the workshop finished and I was retrospecting about the whole trip, I realized that I knew nothing about the place which I thought was familiar to me. From the food to the language and its people, everything was different. Maybe that's the beauty of travelling to places we think we know, to go back again and again to learn new things.