Ratnal is a small village, spread on both sides of a highway connecting Bhuj and Anjar in Kutch, Gujarat. On the outside, it looks like a typical Indian village but there is more to it. After getting to know about the famous Janmashtami celebrations there, I planned my trip to Ratnal with a friend.
It has a record number of trucks and truck owners. This becomes apparent as soon as you reach the village. The major source of income for people is transportation and agriculture. The embroidery work done by local women has also gained popularity. This village was first inhabited by Rabaris and Ahirs, the pastoral communities. Ahirs are often identified as 'Yadavs' and are now mostly involved in agriculture.
We got off the bus at Ratnal around 12 pm and went to a nearby tea stall to ask for directions. But looking at how busy the shop owner was, we thought to have a cup of tea first. After that, he was kind and patient enough to direct us towards the temple where celebrations take place. He also told us about the timings and events planned on that day. It was a super hot day. The temple had a huge ground in front of it with a 'chabutro' (Gujrati for a round platform like structure where people gather) in the middle.
There was time for the event to start, so we visited a Shiva temple where a few tourists and photographers had already gathered and taking rest. An old lady, Rani ben, came with a pot of buttermilk and served it to us, for free. After that, she also posed for pictures smiling, with the steel pot on her head.
I often feel confused when I'm at the receiving end of these random acts of kindness. It alarms my senses and makes me feel uncomfortable, even though I'm grateful for it and kindness is a much-needed human emotion.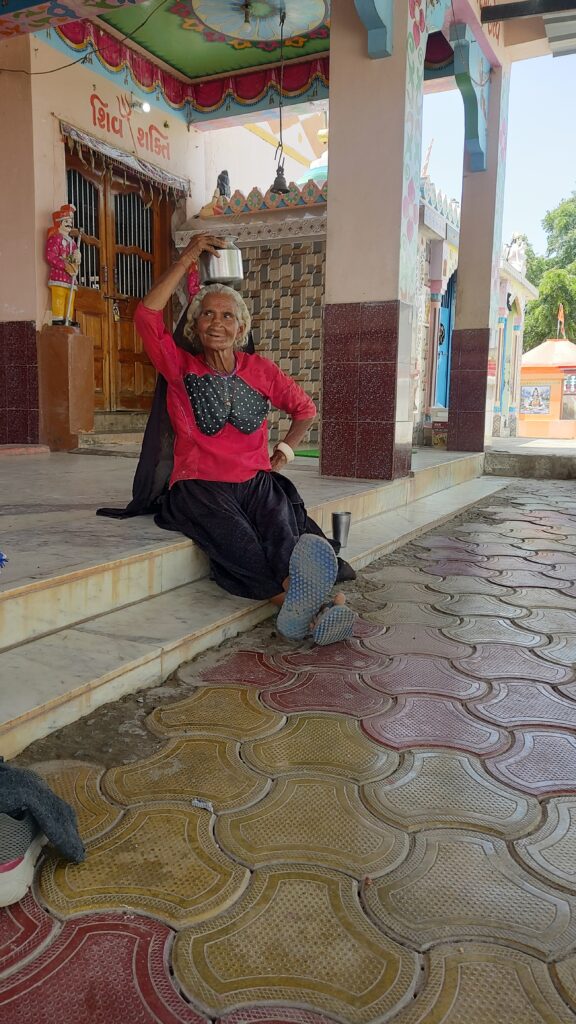 Later in the evening, a group of Ahir women came to the temple and started making clay faces of 'Krishna' as well as his mother 'Yashoda'. They decorated them beautifully with jewellery. The men of the village gathered too, and started Garba raas on the live music playing. Their steps were quite different from what I had learned in Bhuj. Later, I found out that the Garba steps differ between men and women, and in each location, village and community.
After dancing for about half an hour, the procession started with a woman carrying a wooden palki on her head with the idols of 'Krishna' and 'Yashoda'. A human chain formed around her, with men walking in front and women at the back. The youth took an active part in dahi handi celebration right outside the temple. They broke the clay pot filled with curd in just three attempts, and got a cash prize.
I became a part of the crowd and walked around the village along with the procession. We visited a few other temples before gathering at the Gopal Krishna temple in the evening. The Kutchi dhol started playing in the middle of a huge ground at the temple. Two young boys came forward and started doing Raas. Then a few more men joined, irrespective of their age, and within no time there was a big circle of Garba. Almost all children had dressed up like Krishna and Gopis that day.
For the first few minutes, the beats were slow and then the fast ones played. People who could not catch up, left the circle and others continued dancing. At some point, men left the ground and temple surroundings. Now it was women's turn to Garba. Initially, the old women started with simple steps and then, the younger women joined them. The steps were simple, yet graceful. Since it was the sunset hour, everyone was glowing in yellow hues. It got over after a while and everyone left. My friend and I roamed around the village and enjoyed the sunset by a lake in the outskirts.
The Ahirs believe themselves to be the descendants of Lord Shri Krishna, also known as Chandravanshi, belonging to the clan of Moon god (whereas Lord Shri Rama is a Suryavanshi, belonging to the clan of Sun god). This is why Janmashtami is an important festival in Ratnal since the majority of the population is of Ahirs. It was surprising for me to see the entire village inhabited by one community and also at their openness towards visitors and photographers to be a part of the celebration as well as cover it.
Everyone was treated like guests. Tea, buttermilk and snacks were offered to us. They even made arrangements for us to take rest in the afternoon. The women were keen to be clicked, posing, and showing off their heavily embroidered skirts, gold jewellery and ivory bangles. Alongside all this, the paradox of orthodoxy and modernity exists. Even with all the facilities, access to information and a city-like lifestyle, the village is known for its mass child marriages.