In the heart of Bania Chapar, a village nestled in the rolling landscapes of the Gopalganj district, a thirteen-year-old boy named Rohit Kumar Chauhan embarks on a remarkable journey each day. He studies in the 8th grade at the government-upgraded higher secondary school in Seamra Bazaar. I remember interacting with Rohit closely during a skit preparation at Prayog library, based on a book about the Bundelkhand folktale "Geet ka Kamaal".
His eyes sparked with curiosity and enthusiasm. Eager to participate, he had memorized all the dialogues effortlessly. His fun-loving spirit and passion for learning made me curious to know more about him. So I went to explore a day in Rohit's life.
Rohit's world revolves around the loving bonds of his family. He lives with his grandfather, Rajmangal Mahtu, his parents, and his two sisters, Roshni and Sanam. Their livelihood is based on agriculture. His grandfather tends to vegetable farming and sells crops like lauki (bottle gourd) and bhindi (okra). Rohit's father, on the other hand, specializes in the construction of roofs and performs other daily wage-earning tasks. His mother diligently manages household chores, her hands occasionally tending to the fields. Together, they raise goats and buffalo, intertwining their livelihood with the fertile land they call home.
In picture: Rohit's house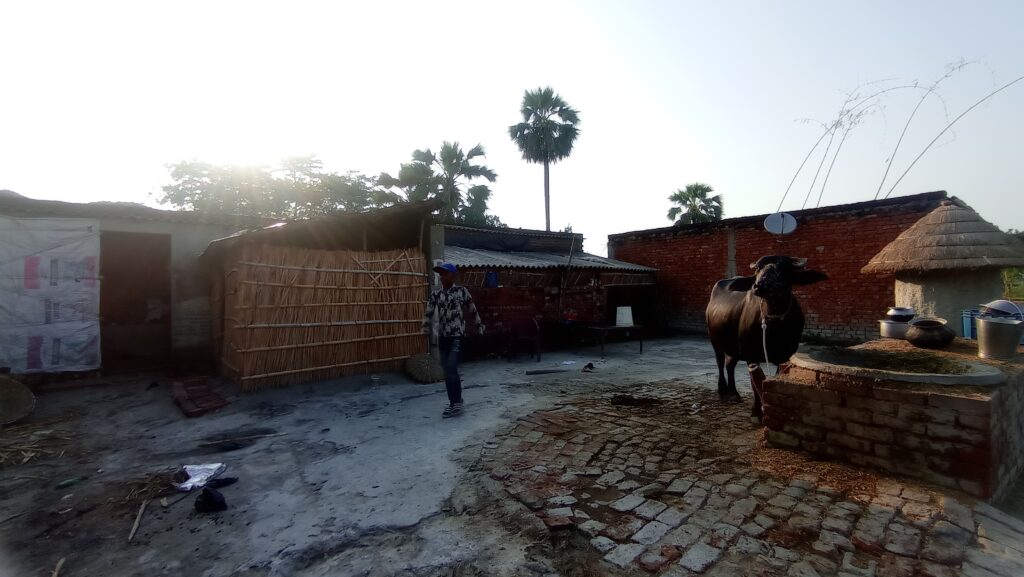 Rohit's day begins even before the dawn breaks. His unwavering dedication to his physical well-being motivates him to rise at 3 am for exercise and running. "I want to be physically fit, and so I love to start my day with exercise," Rohit shared with a smile.
After his invigorating routine, Rohit gets ready to attend his coaching class, which starts at 5 am. As the first rays of sunlight bathe the village, he sets out, curious to explore the day ahead. Rushing back from his classes, Rohit eagerly heads to school. There, he immerses himself in the company of friends and delves into his favourite subjects: English, Math, and Science.
"All the official documents and records are in English. I want to learn and become fluent in English so that I can help my family and people in my village by reading out these documents," Rohit passionately explained.
He shared the value of being proficient in mathematics, understanding its role in financial calculations and record-keeping. "My father and uncle always say, 'Math is money,' so I want to master it to handle all calculations myself." As the school day concludes, Rohit enjoys his delicious lunch, savoring flavours that make him feel at home. "Dahi chewda (flattened rice with yogurt), cheeni (sugar), milk, and roti are my favourites", he shared. A short nap until 2 pm rejuvenates his energy, preparing him for the adventures that await.
After his nap, Rohit dedicates his time to studying until 3 pm. Then, with eagerness in his heart, he heads to the library, a place of both familiarity and boundless exploration. "I love coming to the library because I get to explore so many new things through books and meet my friends as well as new people," he shared, his eyes brimming with excitement.
In picture: Rohit selecting which book to read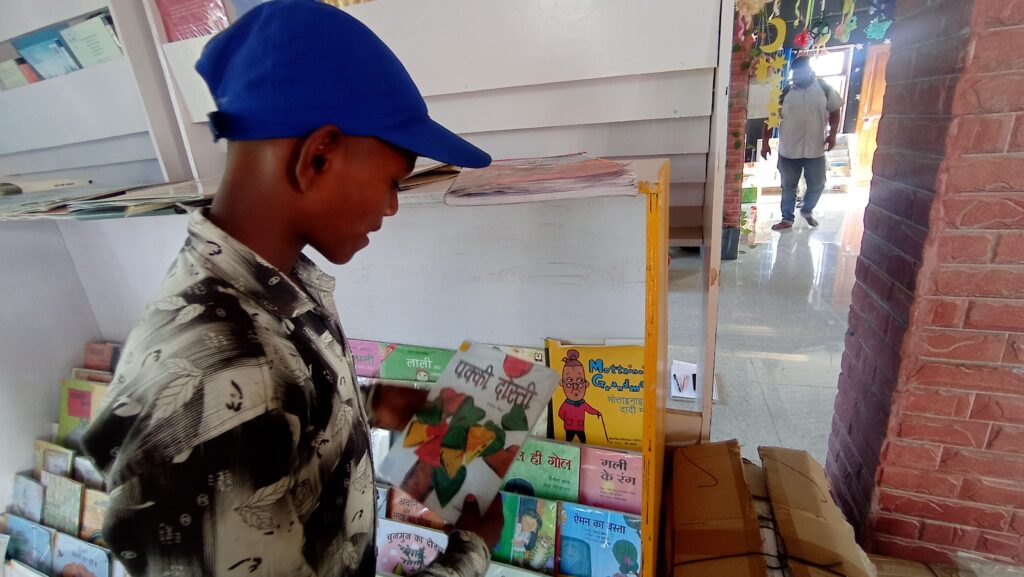 Rohit's love for the library stems from the endless possibilities it holds. "I enjoy reading books that help me explore the world around me. Books about science, space, animals, and plants around us," he added. He showed his favourite books, saying, "You should also read these. I read one page of each daily. It feels like getting transported to a new world where I can journey through space or run alongside magnificent creatures, learn about new inventions, and much more. It is so much fun!"
By 5:30 pm, Rohit returns home, renewed with energy He takes his bicycle for a ride or strolls to the nearest market, soaking in the sights and sounds of his village. "Every now and then, as a reward for my help, Baba (grandfather) gives me some money. I can't resist the temptation to have sweets," he said, with mischief on his face.
In picture: Rohit returning home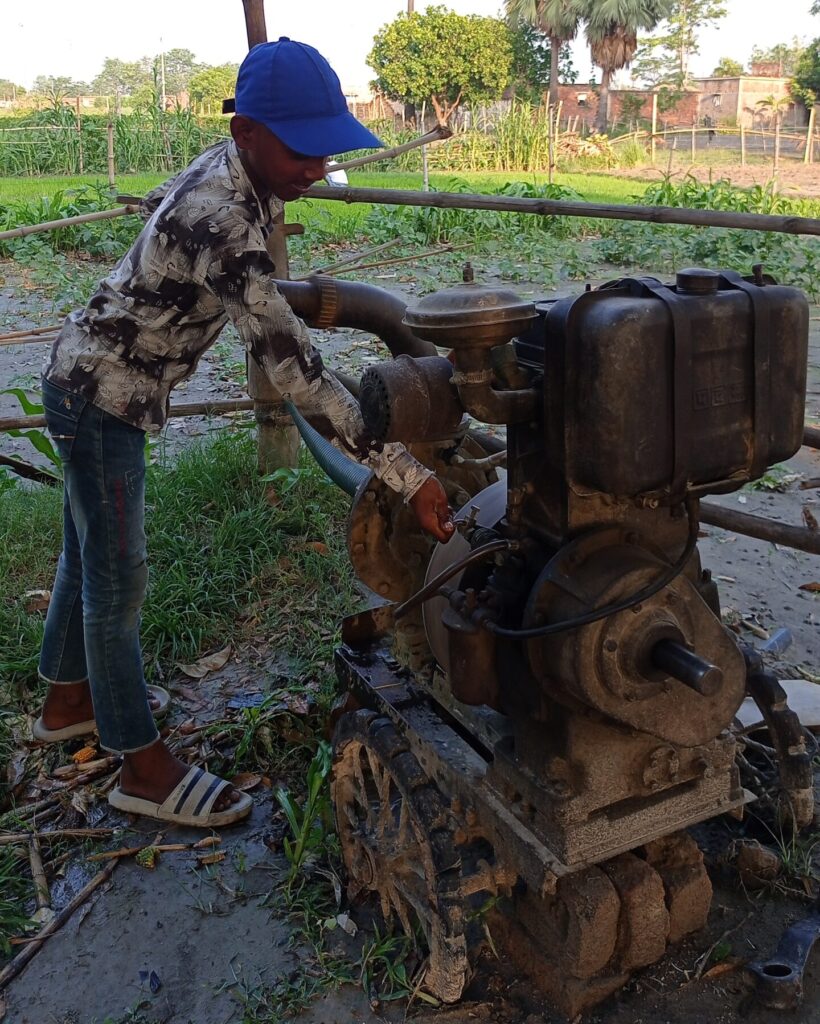 From 7:30 to 9 pm, Rohit likes to revise his studies, driven by his aspirations for a better future. "Studying is my way of providing for my family and pursuing my dream of joining the police force someday," he expressed with determination. In the evenings, Rohit assists his grandfather in watering the fields. He proudly shared about his ability to ride the tractor that aids him in plowing the fields. "I make sure to go to sleep between 9:30 to 10 pm so that I can wake up early the next day," he added, embracing the rhythm of his days.
In picture: Rohit watering the field
I also got the opportunity to know about Rohit's dreams and wishes. He shared, "If I had superpowers, then I would use my magic to fix all the degraded roads in our village and make them better. It is difficult to walk on those roads, especially when we have to travel long distances. I would also install lights and trees on all roadsides so that we could walk freely at night and seek protection from the heat. It gets really hot here, so I like winters more," he added with a sigh!
"And yes… I would use my magic to plant trees that could not be destroyed." Intrigued by his desire, I asked why he wants to do this, to which he said, "Small plants often wither away, and people carelessly walk over them. I want to see the seeds that I plant grow into huge trees, so when I or anyone else feel tired, we can rest for a while in their shade."
Rohit proudly showed me a peach tree sapling he had received from the library, which he had planted in his home, nurturing its growth with love and care.
On interests and hobbies Rohit said, "I like to know about how things around us are made. I want to understand how electricity is generated." He recounted his visit to a power station in Chehalwa village, where he marvelled at the sight of transformers and generators. "That's the place where electricity comes from," he explained, a sense of wonder permeating his voice. Alongside his love for knowledge, Rohit displayed a strong desire to explore new places. He wants to visit Patna, and the iconic landmarks that he had heard about – Gandhi Maidan, Gol Ghar, and Bihar Sharif.
My time spent with Rohit offered an immersive experience of the life of an extraordinary young boy. His infectious curiosity, dedication, and enthusiasm left an indelible impression on me. I am reminded of the amount of potential that resides within every individual. Rohit inspired me with the hope he carries for a brighter future not just for himself but also for his family and community.