Embarking on a journey to meet my co-fellow and friend, Ritu in her field area turned out to be an incredibly joyous experience. The time we shared, the conversations we had, and the sights we discovered created a beautiful experience. Here are some highlights of this adventure for you…
Reaching Indore
Seeing A Friend in Her Workspace
Ritu is working with Kala Maitri, a social enterprise to economically empower collectives of women weavers, and garments manufacturers. I was thrilled to witness her in her element, surrounded by her co-workers. Her enthusiasm in that setup was contagious, and it was evident that she is enjoying what she is doing as well as trying to make a significant impact.
Read more: Kalamaitri – A Collective Run Enterprise By Ritu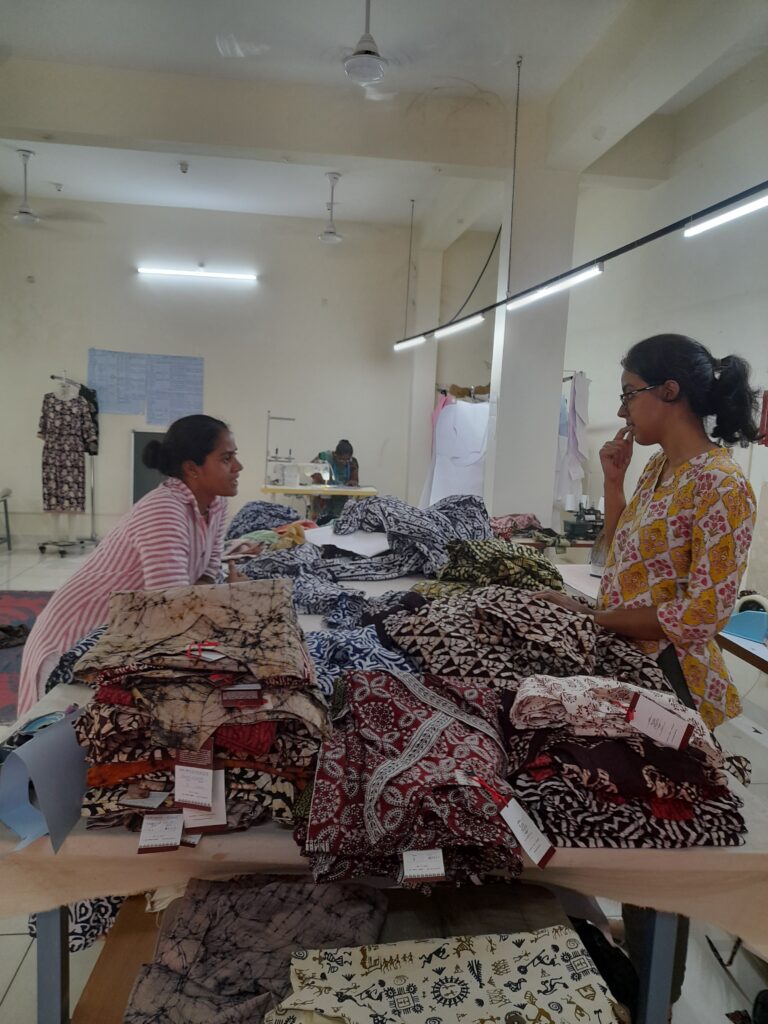 Women In A Self-Help Group (SHG)
During our conversations, I learned about the work of an SHG to empower a community. Witnessing the dedication and resilience of these women was truly inspiring. Through self-help groups, these women get a chance to come outside from the four walls of their houses and work in the federation. With time understanding in their family that it is a safe space for them to work and grow in their lives. It gives them the freedom to do their own thing and financial independence.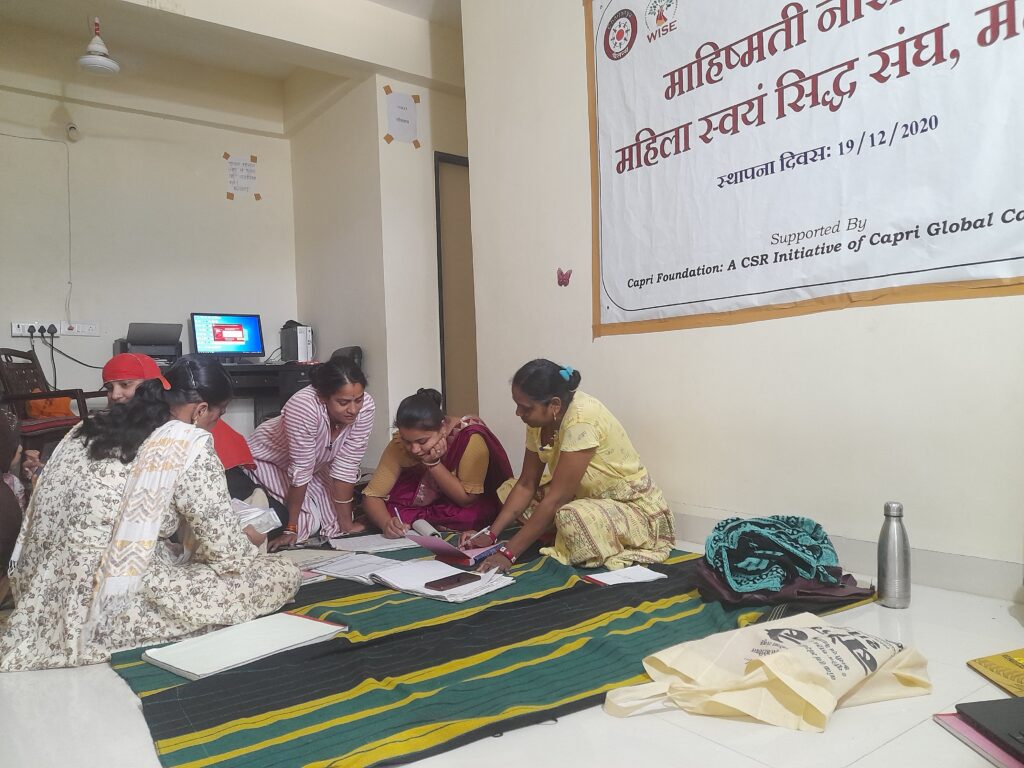 Preparing For An Exhibition
An exhibition was coming up and I asked how can I help with the preperations. The atmosphere was buzzing with creativity as we curated and organized the displays, ensuring perfect detail. It is a way not just to sell the products but for women who do the stitching, to tell their own stories through these exhibitions. Amidst the challenges and logistics of her work, It was lovely to see Ritu navigate through obstacles. Whether it was coordinating schedules or troubleshooting unexpected situations, she found a way to make things work.
The Ghats And Fort Of Maheshwar
Taking a break from work, we embarked to explore the scenic Ghats of Maheshwar and the magnificent Fort. While visiting the fort, I learned that the Narmada Ghat was built in the 18th century by the then-ruler of the Holkar state, Maharani Ahilya Bai Holkar. I earlier noticed a lot of shops and homes named after her. The Ghat was crowded with devotees who visited to take a holy bath. We also had the opportunity to do so. The view of the river from this Ghat is breathtaking. Since it flows through the entire state, Narmada holds an inseparable and sacred position in the hearts of the people of Madhya Pradesh. The serenity and historic charm of this place left me in awe.
A Food Trip In Indore's Sarafa Bazaar
No visit to Indore would be complete without indulging in its famous food culture. We ventured into the bustling Sarafa Bazaar, savoring delectable items that tantalized our taste buds. This market is a jewelry market in the morning and 10 pm onward, it turns into a street food market. What caught our eyes was the Jalebi which was 10x bigger than the normal Jalebi.We also saw a skull made of mashed potatoes, and tried eating the famous Instagram-worthy Kulhaad Pizza which turned out to be Paav Bhaji. It was a mad trip in the Sarafa lanes.
Exploring Ujjain
Another memorable excursion took me to Ujjain, a city brimming with rich heritage and spiritual significance. I soaked in the tranquility of its temples and absorbed the spiritual essence of the place. Visiting the Mahakaleshwar Jyotirlinga took me 3 hours in line and was quite splendid. I ate at the local dhaba and took a nap on the ghats of the Shipra River before I went for evening Aarti which was one of the most peaceful moments of this trip.
Time to Say Goodbye
As the journey neared its end, it was time to bid farewell. Though the goodbyes were bittersweet, the memories we created and the knowledge we gained would forever stay with us. It was a remarkable experience filled with joy, inspiration, and exploration. From our work environment to the captivating destinations we explored, every moment was a treasure. Until next time!