Craftsmanship is the spine of India's non-farming rural economy. However, it continues to remain an unorganized sector with its market prospective unused. It isc ommon to hear about at least one master craftsman who is forced to give up his craft in exchange for a life of hopeless poverty as unskilled workers in India's large urban centers. While most of these crafts received regal and aristocratic patronage during pre-colonial days, they have gradually lost significance with the dawn of mechanization and fast fashion more lately. There are very few examples where a traditional craft has successfully 'contemporized' itself for Indian or foreign markets. One such art is standing on its last leg in Kutch district of Gujarat, finding its way to combat some of existing social-economic issues and newly informed modern challenges.
In Nirona, a place miles away from the limelight, lives the Khatri family, which has been the torch-bearer of our heritage art called – 'Rogan Art.' With two National Awardees, Abdul Gafur Khatri (1997) and his younger brother Sumar Khatri (2003), the family has held steadfast to this unique art form for over three centuries. Rogan designs are highly influenced by Persian culture and the word Rogan itself mean oil based. Rogan painting is done using natural colors and a thick residue of castor oil blended uniformly, and with the help of a six-inch metal stick fine threads of color are drawn onto a cloth piece. Having met the family and the two main artists, I realised how this art has bound the entire family as one, each contributing with full dedication to keep the art alive.
"This skill is being practiced only by our family since 300 years and now the 8th generation has embarked on it. Rogan is the only driving force in my life. I knew I've got something that nobody has and I cannot let it go so easily. Amidst all the life's challenges, the respect that I've earned through Rogan, I don't think so others can earn the same sitting in their AC fitted offices."

Sumar Khatri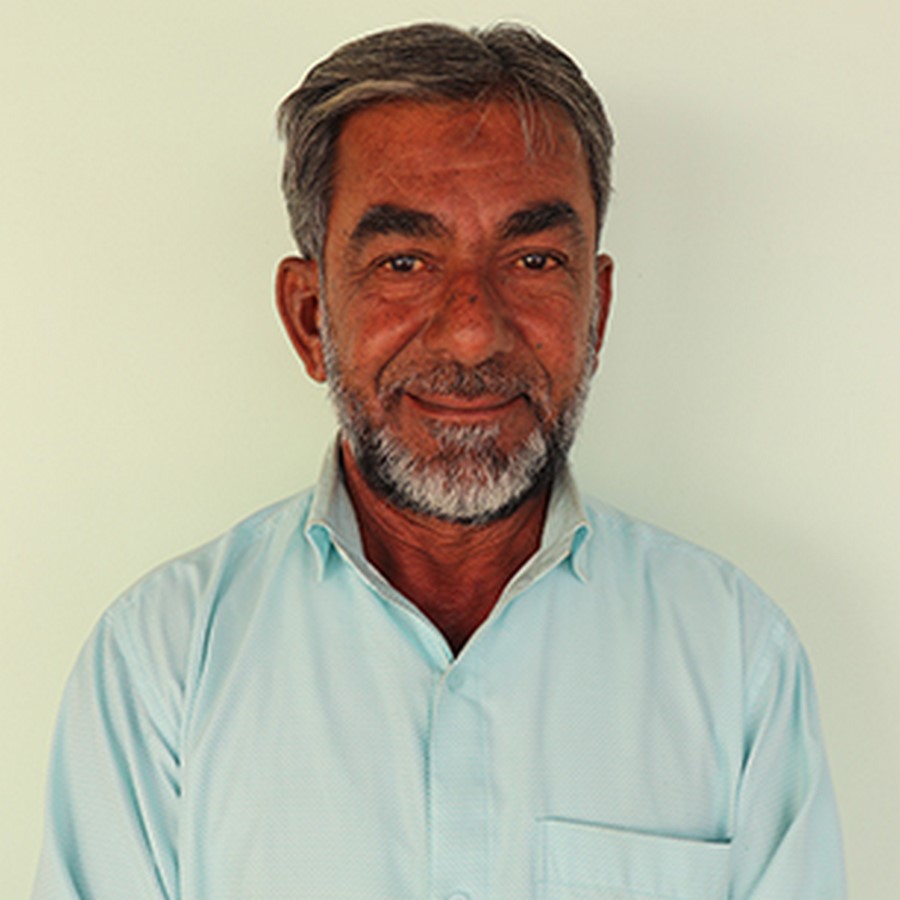 I asked why Rogan art is still restricted within the boundaries of Kutch? Do they think Rogan can survive the blues of the market?
"The roadblock that Rogan is facing today is the advent of commercialization in craft industry, and we lack human capital so as to cater market demand. Also, the sharp understanding of design innovativeness and product diversity is yet to be learnt and implemented. You can say, Rogan is a one man army, sustaining without anybody's support and finding its way to reach maximum people," said Sumarbhai expressing his concern over the extinction of traditional art forms.
Image – Abdul Gafur Khatri ©www.megastores.com
Meanwhile, Gafurbhai joined us and started talking about his 9 year long efforts put in to get National Award in the year 1997. "The irony is we've two National Award winners and several other state level awards, but never got an opportunity to showcase on International platform in our 8 generations gone by. Rogan is considered to be a less marketable art form. Thus we hardly receive any attention from the concerned authorities. So, I wish government starts focusing more on complete impact assessment rather than taking decisions depending on half-done surveys. We also need an environment wherein inclusive development becomes the agenda paying equal attention to heritage art-forms."
The opinionated approach of still looking up the handicrafts as 'cottage' or 'village' industry needs to be altered with a view of identifying rural entrepreneurs in villages. Given the opportunities and right environment to flourish, the 'creative entrepreneurs' are ready to transform craft industry into creative industry thereby contributing substantially to the economy of India. As of the heritage art forms are concerned, one such solution was suggested by artist himself to open a museum, a school and a workplace for Rogan painting.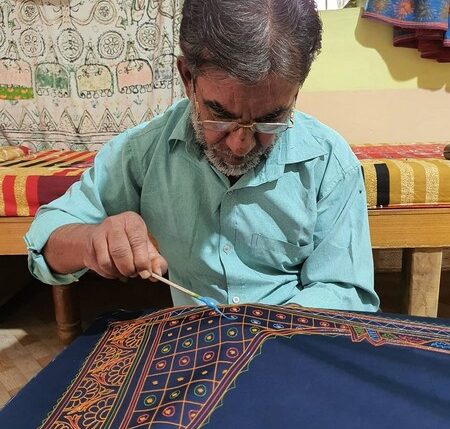 It is rightly mentioned by renowned marketing guru C. K. Prahalad in his perennial work – The Fortune at the Bottom of the Pyramid – the perception that the bottom of the pyramid is insignificant neglects the very surging informal economy down there, which is estimated for 40 to 60% of total economic activities of any developing country. The idea of making poor active, informed and involved consumer thereby developing market around the needs of them is certainly the need of the hour. The very way of projecting development sector with a romanticized image is somewhere harming the sensitivity of the issues existing in the Indian society. Rogan Painting can be just one example of a spell binding yet dying art, but there are several other tribal crafts which are struggling to maintain their identity today.
About the author: Jaimini Luharia is our 2015 cohort fellow. Her interest in craft and development continued through her fellowship, with Ideosync Media as the host organization, and thereafter. She completed her masters in development studies and continues to work in development interventions.