Study of Van Gujjar settlements and their spatial utilization by understanding everyday activities, resources management and commons distribution across the landscape specially Buffalos' Milk.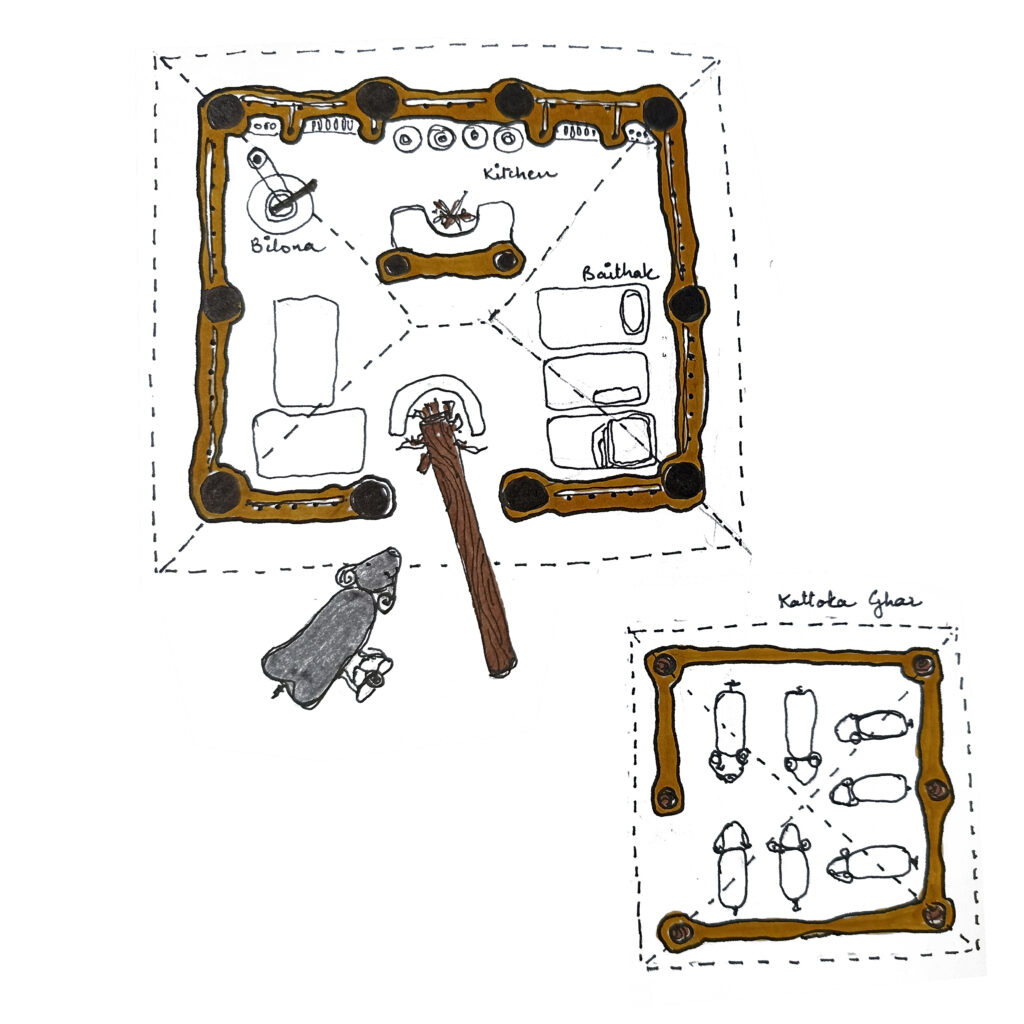 Asama from Kunao, Rajaji National Park got up at 4am. She needs to complete milking of the mother buffalos before they start walking towards the jungle. She gave Khal – Chokkar (feed supplementary) to Gulab. After feeding her young one, she carefully took some milk from Gulab and other buffalos. Keeping the market cans aside she poured a bucket of milk in the copper pot. She covered it as she will whisk it later to take out the Makkhan (butter). Asama then takes some milk in a vessel to boil with water to make the morning tea for herself and other early birds of the house.
Her brother, Aman the Maae (caretaker) will now accompany them to the jungle…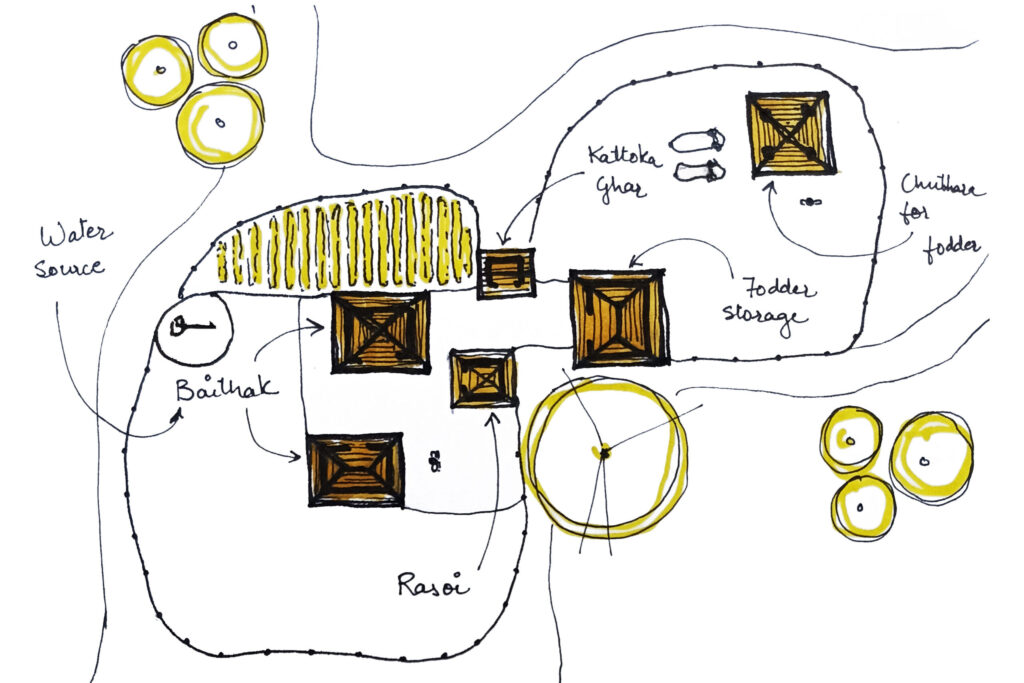 Another brother, Suleman is now up who will get ready and take the cans to the city. He picks up the Koli (bowl) of tea from Rasoi (kitchen) and enjoys it while sitting on the barricade laid out for buffaloes. The barricade is to make sure that they don't feast on the supplementary feed from fodder storage hut. Aasma is now going to prepare lunch and need some mint leaves for the curry. She steps out of the Rasoi and pluck some leaves from the kitchen garden planted by her mother.
Also read: From Meadows To Markets: The Van Gujjars' Milk Routes in The Himalayas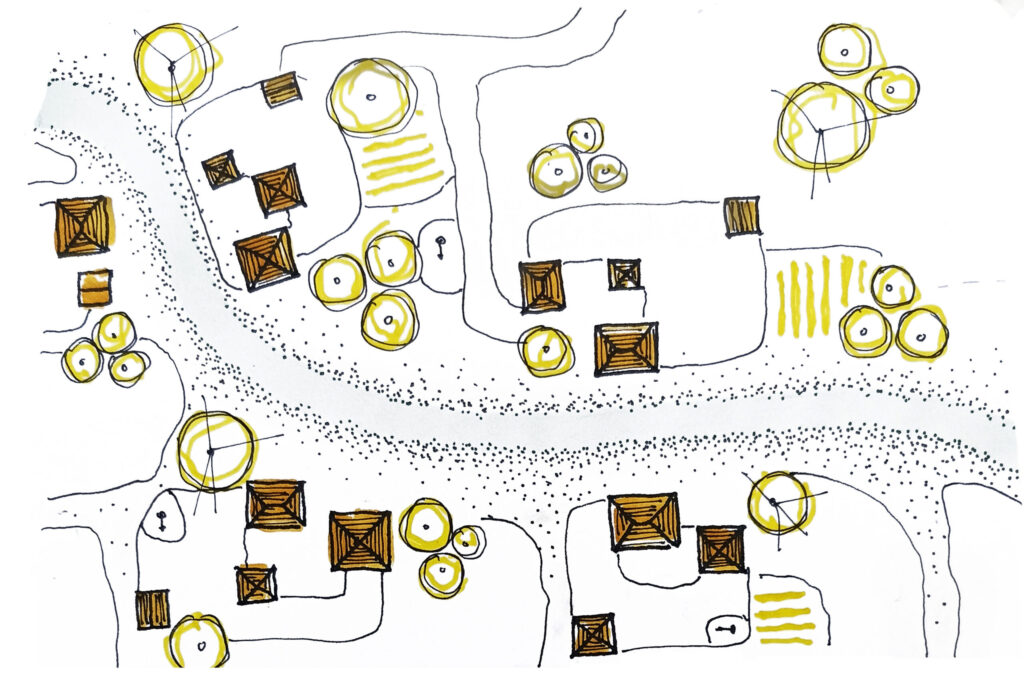 As Suleman arranges the cans on bike, so does Aftab, Gulfam and Amir. They take their and some other families' buffalo milk to the market. Meanwhile, the buffalos who go nearby to graze are back. They have comfortably settled themselves in the flowing water, enjoying the breeze as the day gets hot.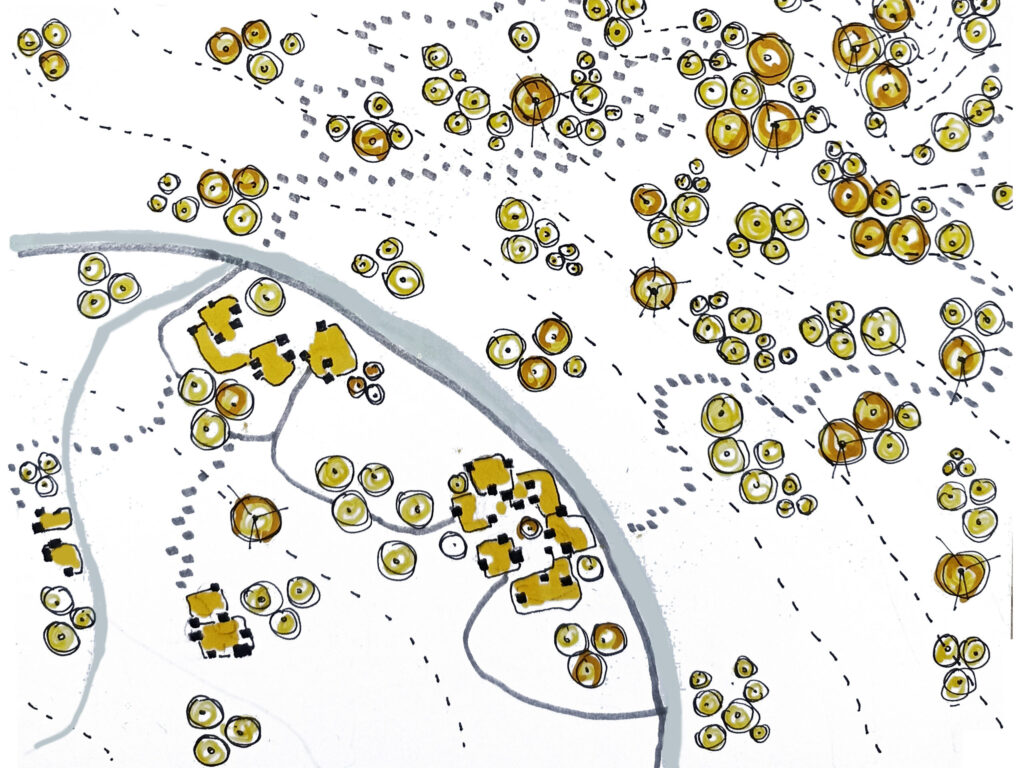 As the men go to explore the market, others are up the hill with buffaloes who like the grasses from jungle. It will take time but the Maae knows he needs to soon start lopping for buffaloes. Lopping is the process of cutting the branches of a tree. This is done because otherwise, the grasses won't be enough.
Just after the forest, crossing the Virbhadra dam there lies Rishikesh city. Its full of shops, residences, restaurants, temples, ghats, dairies and mithai shops. Brothers first meet their regular dealers or diaries and then distribute the remaining milk across the city! This milk will now be used to make Peda, Barfi, Rasmalai, Lassi, Chaas, Kheer and many more such items in several homes and shops in Rishikesh.
Similarly, milk from forest around Dehradun, Haridwar, Vikasnagar, Sahrangpur and Haldwani will be collected and distributed across Uttarakhand by Van Gujjar pastoralists.