"आओ भाईसाहब बैठो, कुछ ठंडा वंडा पीयो"
These were some of the first words that came to my ears as soon as I set foot in Mewat, and they I continued to hear them as long as I was there. At the end of last month, a train from Nagpur brought me to Jaipur. Then I took a bus from Jaipur to Mewat via Alwar and reached Neemli village. I was meeting Mewat for the first time, we didn't have any previous connection.
"मेवात मेरे लिया नया था, और मेवात के लिए मैं"
We both were new to each other but in just a few days, this novelty turned into familiarity. We had just begun to understand each other, and suddenly I got transferred to Karauli. Although the time of separation is coming closer, it feels like we were never apart in the first place. Let me take you on a journey to Nuh district of Mewat and it's not possible to talk about it without mentioning its history.
Historical Background of Mewat
Historically, the part of Haryana, Rajasthan, and Uttar Pradesh where the people of Meo community lived was known as Mewat. They have been considered a brave community. Jung-e-Azadi, the trumpet of the 1857 revolution was first raised on the land of Mewat. In 1372, it was occupied by Khanzada Rajput emperor Raja Nahar Khan. He ruled Azad Mewat from 1372 to 1402 and was also known as "Wali-e-Mewat".
"इत दिल्ली, उत आगरो, इत अलवर-बैराठ। कालो पहाड सुहावणो, जाके बीच बैसो मेवात।"

Unknown
Field Experience In Mewat
As a fellow at Tarun Bharat Sangh, I got the opportunity to visit Pathakori village in Nuh district with a senior colleague. The organization is working on rain water harvesting and water conservation in this region. So, we had gone to fill the application forms for people who would be benefitting from water tanks. As soon as we reached the village, I saw people greeting my colleague with a huge smile on their faces. I thought it is because they know him.
After a while, we were sitting at the house of a local person. He said, "आओ भाईसाहब बैठो, कुछ ठंडा वंडा पीयो". They offer cold drinks here instead of tea in Maharashtra, my home state. It was new for me. We filled the form and left. But I had a lot of questions on my mind. I couldn't sit quietly, and asked my colleague if the culture of offering cold drinks is pravelant in this village or in the whole of Mewat.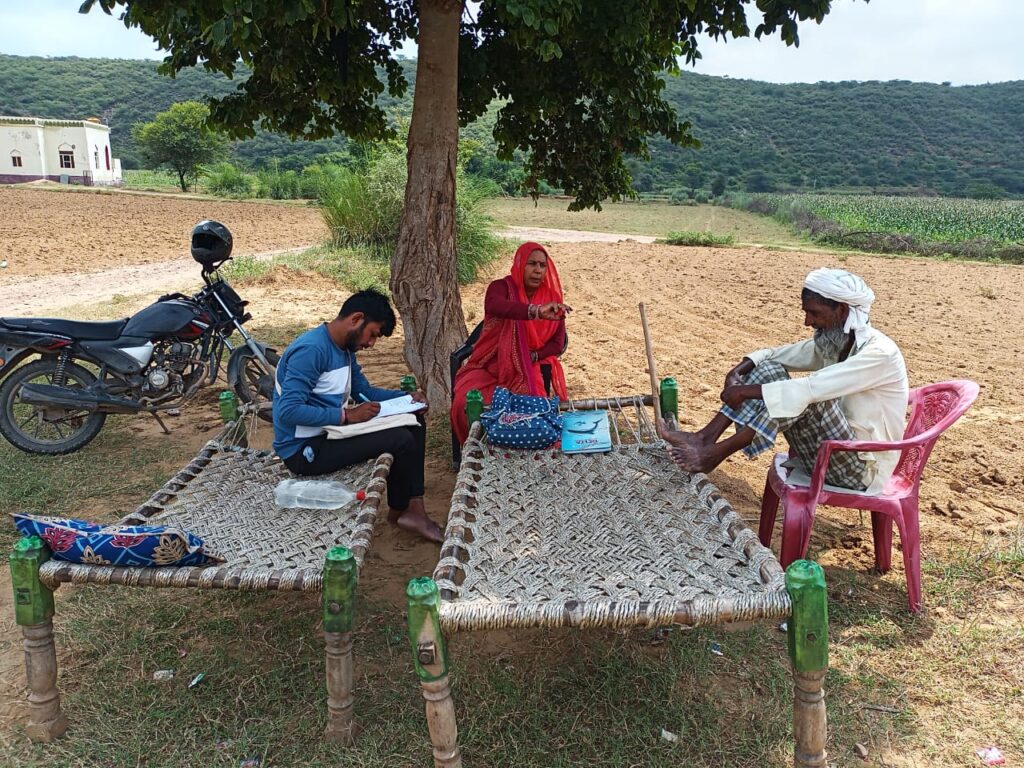 The Curious Case Of Cold Drinks
He replied that it's there across the region. It was shocking for me because Mewat is known to be a backward region. Income levels in Nuh are lower than the state average, and the district has historically faced economic challenges. People do not have employment, proper healthcare services and education. Still, they are buying and drinking cold drinks every day while spending their hard earned money.
Then I tried to understand the reason behind, talked to different people, even took help of Google and what I found out was surprising. The growing trend of drinking cold drinks almost everyday in Mewat can be attributed to the marketing done by companies here several years ago.
The corporates realised that it is a backward area close to Delhi and people are not used to packaged drinks here. When literacy is low, it becomes a vulnerable target group.
In the beginning, companies distributed free cold drinks in villages and convinced people that it is a status symbol of rich people. They kept doing it again and again until people adopted it as a habit. They started buying and drinking it themselves to make themselves feel rich. Jio had also adopted a similar marketing strategy in the initial phase. To mingle with people, I imbibed the cold drink culture while I was in Mewat.
Social-Economic Status of Nuh
Nuh District, formerly known as Mewat, is located in Haryana. It is known for its predominantly rural and agrarian economy. Nuh has a significant Muslim population, and it is one of the minority-majority districts in India. Agriculture is the primary occupation and crops like bajra, wheat, and mustard are commonly grown. Livestock farming is also prevalent. Non-farm activities include small-scale trade and handicrafts.
Income levels are lower than average. The lack of industrial development, limited access to education and healthcare have contributed to these challenges. The literacy rates are relatively lower. Quality education has been a concern, although efforts have been made to improve it.
The place is also known for its unique Meo cuisine, handicrafts, traditional music, and historical sites. There is language diversity, with people speaking Mewati, Haryanvi, and Urdu.
Tarun Bharat Sangh (TBS)
It is a renowned non-profit organization working since 1975 towards climate change mitigation and adaptation by promoting water conservation, sustainable agriculture and rural development in the arid and semi-arid regions of Rajasthan and Haryana. Under the leadership of Rajendra Singh, known as the waterman of India, TBS has been actively involved in making water everyone's concern. Along with rain water conservation in Mewat, TBS is also working on education, health and women empowerment.
---
These were some of my major learnings from a month spent at Mewat. If I get a chance gain, I will want to know and understand it more deeply. For now, I'll take a leave from you by giving a full stop to this "गुफ्तगू ए मेवात".