Ever heard of Phoolan Devi, the famous daaku (bandit) from the Chambal region? Maybe you've seen a movie or heard stories about her adventures. But have you ever wondered why dacoity was so common in places like Chambal and nearby areas? Today I'm taking you on a fascinating journey from a world of dacoits to a land of prosperity right in the heart of Rajasthan's Karauli district. Several factors contributed to the rise of dacoity in the Chambal region.
Factors Behind The Rise of Dacoity In Chambal
Tough Times and Money Troubles: Imagine not having enough money to feed your family and fulfil their needs. Many indigenous people in the Chambal region faced extreme poverty and limited opportunities. Some felt they had no choice but to turn to dacoity as a way to survive or improve their lives.
Places to Hide: You know how in movies; the dacoits always seem to disappear into the hills and jungles! Well, that wasn't just for the big screen. The rough and remote terrain of places like Chambal made it a perfect hideout. They could easily hide in the jungle and stay out of the police's sight.
Tales of Rebellion: Back in the day, being a dacoit was attractive, someone out of a legend who would fight against the system. One who would stand against injustice on behalf of a community. This sometimes inspired locals to take up dacoity as a way to make a statement as well as bring change.
Lands with less enforcement: Living in an area where the police can't easily reach you was a benefit. Law enforcement was a bit shaky in these parts, making it easier for anyone to carry out their activities without much fear of getting caught.
Stories of Transformation
As an India Fellow I got an opportunity to work with an organisation called Tarun Bharat Sangh (TBS). TBS is on a mission to tackle water scarcity in areas that rely on rainfall. In my first month here, I got a chance to visit Mathra village in Karauli district of Rajasthan where TBS was busy building traditional water structures like johads (a pit or a tank to collect rain water) and pokhars (ponds). These structures help store water and make it available for farming as well as other uses.
During this visit, I met Lucy. She is a German documentary film-maker and was working there on her next documentary about how water availability brought transformation in the lives of dacoits. We interacted with people who were former dacoits and had surrendered to now practice farming.
Jagdish Ji
In Dongapura, we met this reformed dacoit who once, with his gang would hide in the forests on hills, carrying out their 'operations' against contractors and dealers. They used to kidnap people to demand a large sum of money. Today, Jagdish ji is a farmer living with respect and dignity. What struck me was his perspective when he said that "We were against the system, not the local folks. We never harmed locals". Lack of employment opportunities and harsh geographical conditions led them down that path. He attributes his transformation to water availability. When I asked if he feared for his life, he smiled and said,
हम चम्बल के डाकू थे, एक हाथ मे बंदूक और दूसरे मे जान लेके चलते थे! फूलन देवी का नाम तो सुना होगा…
Bhuri
In Naharpura, Bhuri shared his unfulfilled dreams of becoming a pehelwaan (wrestler) and how circumstances, post-marriage, led him to dacoity. He used to assist other popular dacoits in robberies, navigating the challenges of survival. There were eight members in his gang. They used to either cook in the jungle or visit nearby villages for food. There was no other way to earn money and not enough water for farming and domesticating animals, he tells us. Now with water availability, he tends to both his animals and farm. Like Jagdish ji, even he said,
भाई साहब कोई नही चाहता इस डकैती में आना, ये तो परिस्थितियां कुछ ऐसी बनी की हमें ये रास्ता स्वीकारना पड़ा
Gudabai
At Mathra, we met a middle-aged Gudabai. She got married at the age of 8. Her husband used to carve stone and cut the woods. She spoke of the terror that the villagers felt when dacoits would come knocking at night, demanding food. We had to cook for them and supply it to the jungle, she tells. They rarely harmed the locals, but their very presence was intimidating. There was fear of death or harm.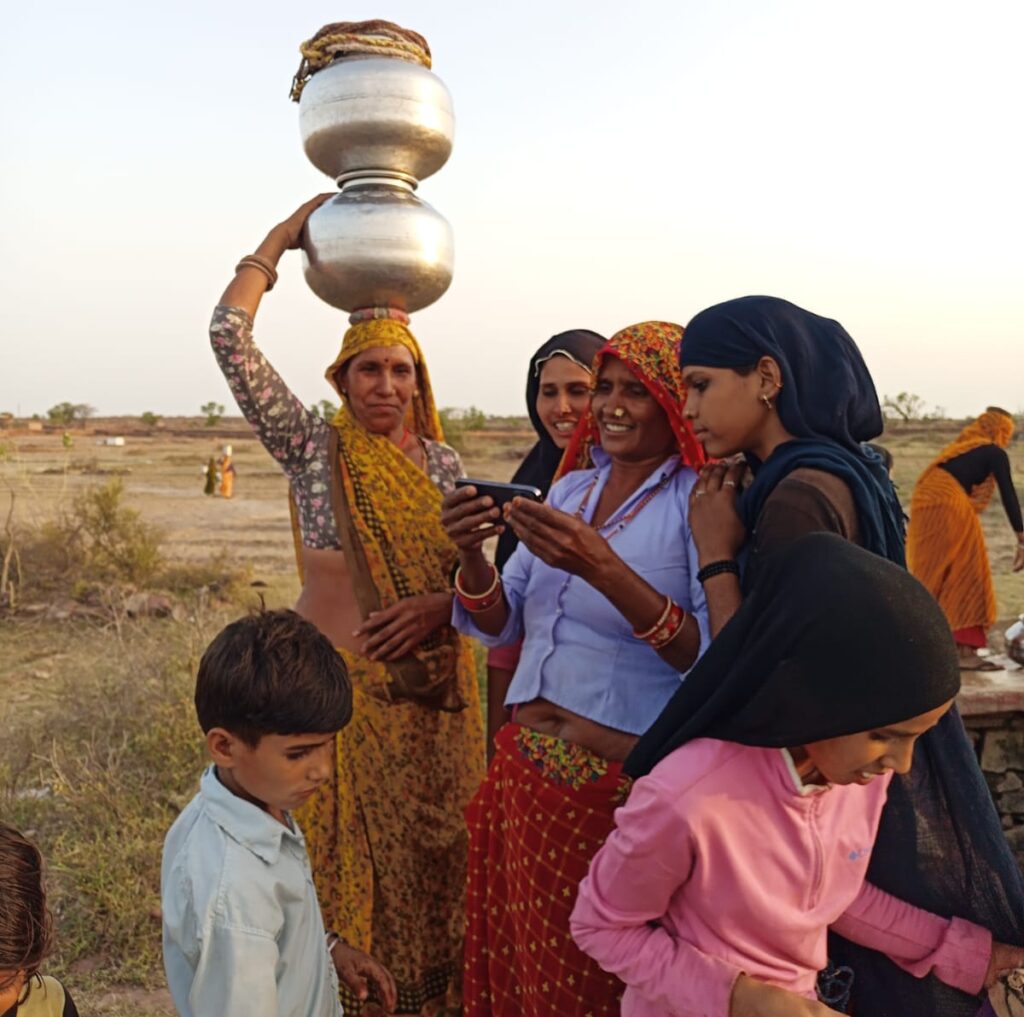 Karauli Today
Karauli is well-known for its red sandstone that was used to build historical buildings like the Red Fort and Qutub Minar. Things have changed now. Because of water availability, farming and cattle rearing has become feasible. People are growing mustard, wheat, and pearl millet successfully, which is giving them hope. Some farmers are even able to sow two sets of crops – one in the rainy season and one in the dry season, because they have enough water.
However, challenges are still there. There is scarcity of jobs, and lack of good-quality educational as well as healthcare facilities. A lot of young people are moving to cities like Hyderabad to find work opportunities.
Water: The Turning Point for Change
Dr. Rajendra Singh, the "Waterman of India," leveraged indigenous techniques, introducing traditional water structures like pokhars and johads that prevent water from flowing down and instead, collects it. He researched on the rainfall and soil patterns of the region and came up with innovative solutions. This revitalized water sources, enhancing agriculture and cattle farming. Furthermore, with initiatives like afforestation, TBS aims to tackle climate change and stabilize the region's rainfall patterns.
Because of the continuous efforts, enough water is now available in the region. More cows and buffaloes are raised, and milk is sold to the nearby dairy. People live more stable lives because of regular and reliable production from farms. Earlier, women would have to walk long distances to fetch water and to do so, they would take their children along, for help. Now, children are able to go to school. TBS is also working on water literacy so that people would take care of natural resources and conserve it for future generations.
Conclusion
The transition from dacoity to prosperity in Karauli is about resilience, hope and the power of human spirit. What was once a region known for crime is now a land of opportunities, growth, and dreams. It must not have been easy but it shows that even in the toughest times, transformation is possible. It's a reminder that even the darkest nights can give way to bright days, and that with determination and collective action, one can write their own story of change.