One of the key areas where a lot of social enterprises need support is in building their capacity for marketing. Especially if they're selling products and/or services. This includes establishing forward linkages, a basic understanding of digital marketing, the scope of various e-commerce platforms, and so on. I'm currently working on such a project with Women's Integrated and Synergistic Empowerment (WISE) in Maheshwar, Madhya Pradesh.
About the initiative
WISE started working here in 2019. The aim was to focus on economic empowerment of women weavers, garment manufacturers and various small-scale women entrepreneurs. It led to forming Women Entrepreneurial Network (WEN) that aims at identifying and nurturing the innate talents of women.
This network enables them to benefit from economies of scale and maximize employment generation as well as value creation. The network mobilizes women into small collectives, focusing on identifying their skills, training and building entrepreneurs out of them. It does so, to enable them to access market and other resources. Under that, Kala Maitri is a unique range of products indigenously designed and hand crafted by small-scale women entrepreneurs of Madhya Pradesh.
On the Christmas Day
It's the 25th of December, and the roads of Maheshwar are flooded by tourists. While they get down from buses and cars, Madhavi didi is busy loading our two-wheeler with a huge duffel bag. She also has a tiny blue suitcase in the front. I'm sitting with a cloth hanging rack in each of my hands at the back. Barely balancing, we make our way through the market to the "I love Maheshwar" sign on a steep slope leading to the Ahilya Devi Fort. This is where we've decided to set up shop for the day.
"Didi main akele nahi karungi. yahan sab humko jaante hai" (I won't do it alone, everyone knows me here)
The hesitation seems justified. Standing at the stall would mean a lot of attention, from all kinds of people. Being visible also meant being talked about in a place where everyone knew everyone. Gossip spreads like wildfire.
"Aap Maheshwar ke bahar kahin ka bologe to main bejhijhak chalungi aapke saath" (If you ask me to come with you anywhere outside Maheshwar, I'll do it without any hesitation)
Playing the same role in unfamiliar grounds was somehow less intimidating than having to do it on one's home turf. There was less of a concern of the said image.
The Pop-Up Shop
The idea of the Kala Maitri pop-up shop was hatched in a car ride from Indore to Ahmedabad. Back in Maheshwar and Ujjain, women were receiving training in fashion technology skill sets and were working on a new kameez collection. The upskilling training was an important step up for Kala Maitri. It meant having a trained cadre of women to create quality products at par with the market.
Women were learning to do things end to end, right from the selection of cloth to drafting their designs, stitching and adding final touches to the garments. The same needed to reflect in the way Kala Maitri did sales.
The canopy was being set up, the banner read Kala Maitri – Kifayati daam, gunvatta + praveenta. An array of ethnic kurtas were hung on its sides one-by-one. Our first customer came in even before we could set up. Madhvi didi, hesitant at first, now stood at the stall for hours, talking to customers, clicking selfies with each one of them, telling them about their work as well as the organization.
Preparation before the showcase
The first training included an introduction to marketing. It focused largely on storytelling. We even roleplayed different types of customer interactions one could come across. Being a part of the training as well as the actual sales was insightful for me in terms of seeing how the training translated on ground.
Situated on the banks of river Narmada, Maheshwar is a small town famous for its handwoven Maheshwari sarees. Hence the question "Is it handloom?" became a common one at the stall. "We use batik and bagh print fabrics that are handmade, not hand woven though" I explained. I was not sure if I still held the buyers' interest.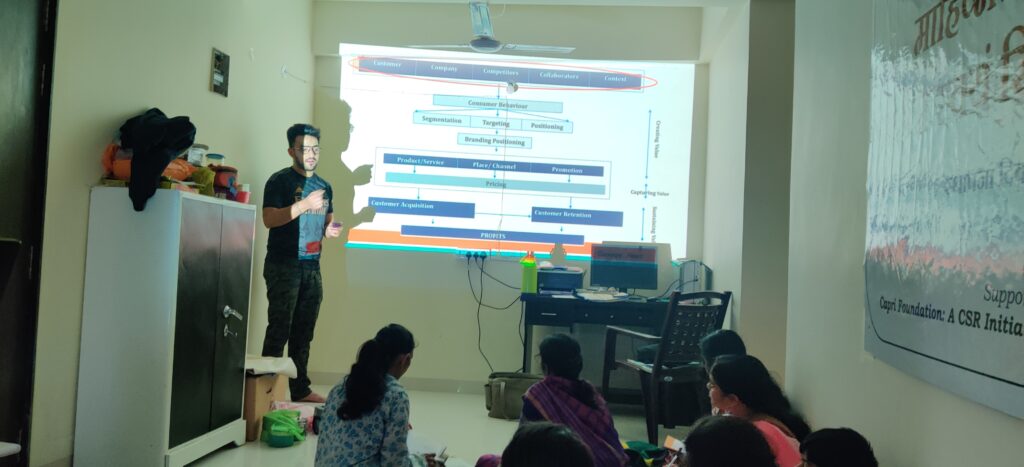 Learnings from the pop-up shop
We set up shop at the same spot for the next couple of days. It gave us an idea on who our customers might be and what challenges we are going to face. This was in effort of trying to make as much of the inbound holiday crowd. There were all kinds of customers – the ones who loved the products and the ones who wanted to support us in ways more than buying. Oh! and not to forget the ones that haggled.
Also read: The kind of people I meet during a sale
This was the first time I too did things end to end. From designing the banners on the canopy to standing there with the women. Being a part of the process at every step not only felt rewarding but also instilled some confidence in me to act without having figured out everything at once.
For someone who excessively enjoys planning things to the last detail, it felt uncomfortable. To just go with the flow. To build from what was at hand rather than wait for all resources to fall in place. I realised this was just the start of an iterative process. I concluded the day of Christmas with a celebration. And with a lot of gratitude plus hope for better things to come.