Growing up in Delhi and living here for major part, my life has been quite comfortable. With all the advanced healthcare, education, entertainment and recreation amenities, I didn't have any reason to go and live elsewhere, especially not in rural areas. With a corporate job in travel industry, I'd commute long distances everyday, working 9 to 5 for a monthly pay check until Covid hit. When the pandemic shook our lives, the travel industry faced a huge crisis. I lost my job and was suddenly directionless.
It was a painful and uncertain time. However, adversity often opens new doors. I started teaching young children and found out that I enjoy doing that. Imparting knowledge to others was satisfying. I discovered an inclination to help others.
Fast Forward To 2023
I applied to India Fellow, a social Leadership Program aimed at youth empowerment and self-discovery to find one's true calling. I wanted to explore my identity beyond a desk job and the safety net of a regular income. It was only possible by changing the place and environment I had been living in. The nature of the program required me to live and work in a rural setting far away from home for the next 18 months.
I took the leap of faith with hope that it would add value to my life. There would be a different way of perceiving situations, a meaningful approach to work and it would be a fresh experience. There were apprehensions since I had not gotten much of a chance to be a leader, always having worked in hierarchies with restricted decision making. It was like testing waters for myself. It was time to stretch my wings. While I was selected, the decision to step out of my safety net wasn't easy for me.
I was uncertain because I didn't know where I'd be for the next 18 months. Maybe that's how one starts to operate, driven by fear, when protected too much for too long. The unknown starts scaring us.
As the date for the induction at Krishi Vigyan Kendra, Udaipur, approached, a mix of hope and nervousness filled me. Hopeful to do social good and nervous to have come out of my shell. However, an underlying belief guided me. As they say in India Fellow, "Jump, and the Net will appear." With that, I boarded the train to Udaipur.
Udaipur
In Udaipur, although surrounded by strangers, connections became quickly. With co-fellows and the team, we bonded well, forming a tight-knit group. But a looming question hung in the air – where would we be placed? With whom? Our destinations were soon revealed by handing us a piece of paper each on which our next destinations were written.
I will be going to Bihar. Our training concluded, and with heavy hearts, we said our goodbyes. It was going to be new for everyone. Just like the roots of a tree we converged at one point only to diverge in different directions like branches. My nervousness had turned into excitement. I was eager to embark on this journey, explore uncharted territories, and learn from the chaos. Next stop: Bihar.
Bihar
I never knew that the Eastern Railways always travels on full occupancy. I didn't get the reservation, but I had to go. On finally reaching Simri Baktiarpur in Saharsa, Bihar, the ethnicity, culture, and landscape of the place seemed to have changed. My organization Happy Horizons Trust provided me a room on the top floor of the hospital within the campus.
In this novel setting, my strengths and challenges both came into focus. Living independently made me introspective and more appreciative of the small luxuries I had taken for granted. A realisation dawned upon that some people are unable to even have one meal a day. It's rightly said that you value something more when you don't have it. I never thought food could be a problem in my life.
With Happy Horizons Trust, my focus is on education and youth development in rural areas. My interactions in the community, especially with children in government schools, gave me perspective. Every day has been unpredictable, keeping me on my toes. Living on the terrace itself is scary on some days and blissful on the others when I get to catch the beautiful sunrises and sunsets. But it's thrilling, seeing how my initial hopes and fears have evolved into real experiences.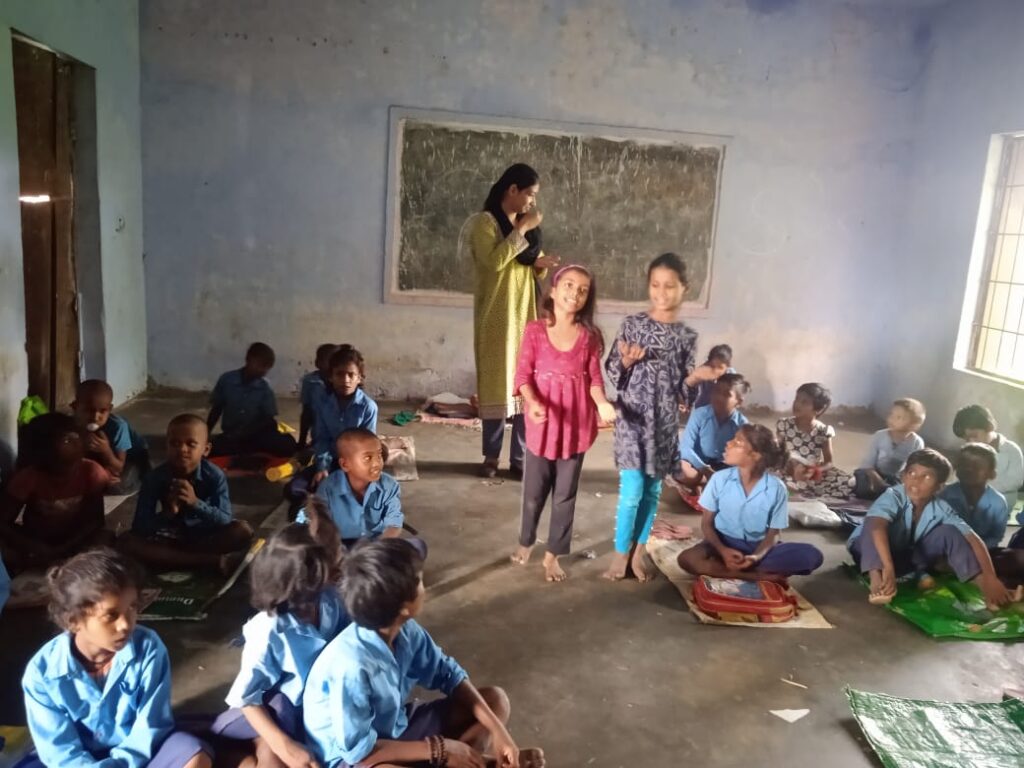 After visiting government schools, I am able to see things from their lens and open myself up to their stories. It is both overwhelming and wanting me to do something at the same time. I'm grateful to be among the 17 fellows who joined India Fellow this year. From feeling directionless post-Covid to finding a renewed purpose in Bihar, it's been transformative. I am finally spreading my wings, leading in my unique way, delivering sessions, putting my ideas across, and making a difference.