Library to me is a mosaic, a beautiful patchwork of ideas, people, and stories sewn together by books and our humanness.

It is a place where I slow down and marvel at the pages filled with pictures, illustrations, colours and their various textures. It is a place of wonder where I feel childlike.

The library feels like a garden of sprouting emotions.
This was what I wrote in my journal while we were asked "What does a library mean to you?" This is not how I looked at libraries before coming to Prayog. Something changed in the last few months. I value such moments of reflection when I get to revisit the same questions and see a shift each time.
Let me take you along through my wonderful experience of this course which gave me a chance to reflect and rejoice.When I first came to Prayog, I was amazed by the idea that there is something called a 'Library Educator'. And there's a course fully dedicated to 'Library Educators'.
This January, we (me and my co-fellow Zainab) had set out with a lot of anticipation and curiosity to visit a library and the people we had heard so much about. We were going to be a part of the Introduction to Libraries Course, a six days workshop which was being hosted by Bookworm, an organization based in Goa. Bookworm is a children's library that runs a range of library programs in the schools and communities of Goa.
The days at the workshop began with a nice ritual of lighting lamps as a gesture of igniting energy and creating a vibe of shared optimism. And this was just the beginning of such exercises which welcomed into the libraries a lot of playfulness through body movements and much more. These activities were wonderfully facilitated by Alia throughout the next 5 days.
I tried to be an infant to the world of libraries here. Although I had some background in the work in libraries as I had begun to understand it through my work at Prayog. Let's see how it feels to start from scratch, I thought. So I really answered some questions as a beginner who wouldn't choose a library over the home as their safe space. And there were many such fun questions that made us reflect and imagine libraries a little bit in a different way than what we had experienced before.
For one of my friends, the toilet seat was a place where she got new ideas. She had also now set out to explore in the remaining six days if the library could also be that place for her. While being at Prayog, I am a reader but I am a library educator as well. Here in this course, I was excited to be 'just a reader' of the library for a change.
On the first day, we all were asked: What does a library mean to you? My thoughts on this question were different than what I had answered while back at home (Prayog). I think they would continue to be different each time I contemplate this question, which is something I love. As I finished writing my thoughts, I looked at others eagerly to hear what a library means to them.
I felt like I was listening with the intent to listen and feel what the people around me were sharing. So much goes into the simple act of listening, and paying attention. I was also observing myself as to how I was speaking, whether I shared with the intent of being heard. The concept of 'collective learning' that I learned at India Fellow training was on my mind. This has been one of my most valuable learnings and I make it a point to practice it while being a part of such shared learning spaces.
One of the activities that shall stay with me was the one where we were 'stitching'. It felt therapeutic. We were supposed to stitch some of our memorable moments each day on the tote bag gifted to us. To stitch memorable moments and keepsake their touch and feel was something I did for the first time. Whenever I feel like doing something calming and refreshing, I would like to keep coming back to it. Little did I care if I knew how to stitch and will the stitch look good. I just went on playing with the thread and needle and what it turned out to look like on the last day wasn't so bad. Small moments when we ditch perfection and enjoy the act itself are something we owe to ourselves!
Now that I was also going to be a reader in this library, we were supposed to make library cards. I enjoyed making them, after being clueless about what do I draw on the cover page. I just began with some leftover paper cutouts which came together to create what is my favorite way of self-expression, 'the appreciation of the multitudes within me and others'!
Further the same day we went on a sketch walk in a lane of Fontainhas. This place holds historical significance. I was looking at everything with a lot of awe and intrigue. The walk facilitation by Ria was lovely. The way she told us about the history of this place, opened the memory files of the history student in me. Cultural syncretism fascinates me. I love to peep into how with time, interactions and exchanges among cultures shape some marvelous creations. These creations are reminders of the thriving coexistence of cultures!
We took a walk and I decided to stop by an old tailor shop. It's dominantly yellow-black profile, entangled cables overhead and that old uncle sitting inside fascinated me. So I started sketching that. More than sketching, I took pleasure in the walk where I was marveling at the details of the roads, the patterns of the window railings, and the colors of the houses. And all of this was happening at my favourite time of day, the dusk.
The next day began with me expressing my gratitude towards being 'neurotypical', as somebody just mentioned it, but I realised that I had never given it much thought, nor had appreciated it so much before. It took us further toward the connection between stories and becoming a reader. It made me reflect as to did I take access to books and stories for granted. Have I valued them enough? Turns out I did value them as I was growing up, but I value them even more now. It fondly reminded me of my grandma who bought me storybooks, and my grandpa who told me funny stories.
This also brought me to a stark realization that not everyone has access to stories in their childhood and there are people who haven't got a chance to read stories until they reached adulthood.
The library games were the next segment of the day where we enjoyed browsing through books. What was different for me this time is to see how critical browsing games are in a vast library. Because the freedom of choosing books can be so overwhelming and confusing amidst so many books. This choice can be empowering only when such help in a fun and gamified manner is offered to a child. It helps the children explore the bookshelves, know themselves better as a reader, and find their own interests in reading.
Post lunch we used to have an hour of 'quite reading time' and one day, I found 'My book'. The reason I said "my book" was because it gave me the unmatchable, serendipitous joy of finding a book that felt so made for me. Although I stumbled upon it while browsing the bookshelves, I like to believe that the book found me.
The book was – Lost in Translation. I have a love for words across different languages and for how they originated. So when I sat down to read, I felt my eyes sparkle with awe and tears of joy. The prose, the whole writing was so heart-warming. There were many other books that touched me in the days that I read them.
Children's books have opened a wonderland for me and I would love to speak about it in a separate blog. They talk, they whisper, they wink, they hug, they smile, they pamper, they call me out, they make me slow down in the middle of a busy day. They make me feel loved. I was a happy reader in these days. When we were asked to reflect upon the question of what makes you a reader today, I had one small reason- "putting the pleasure in reading first" reading became a soul-nourishing act for me.
When I let go of the futile notions of speed reading or the number of books one should read in a year or academic reading is the only good kind of reading. It made me a better reader when reading became an act of pleasure rather than some virtuous habit.
While we were doing activities in groups I was looking at the details of how it was conducted. At the same time, imagining how it must have been planned and set up. The thought of our kids back at home in Bihar was also constantly in my mind. I was reintroduced to the key practices and activities of a library like Book Talk, Read Aloud, Book Displays, etc.
It felt good to know them on a deeper level and consolidate these concepts in a much better way. Contemplating the 'elements of the library' and their order of priority was an insightful exercise.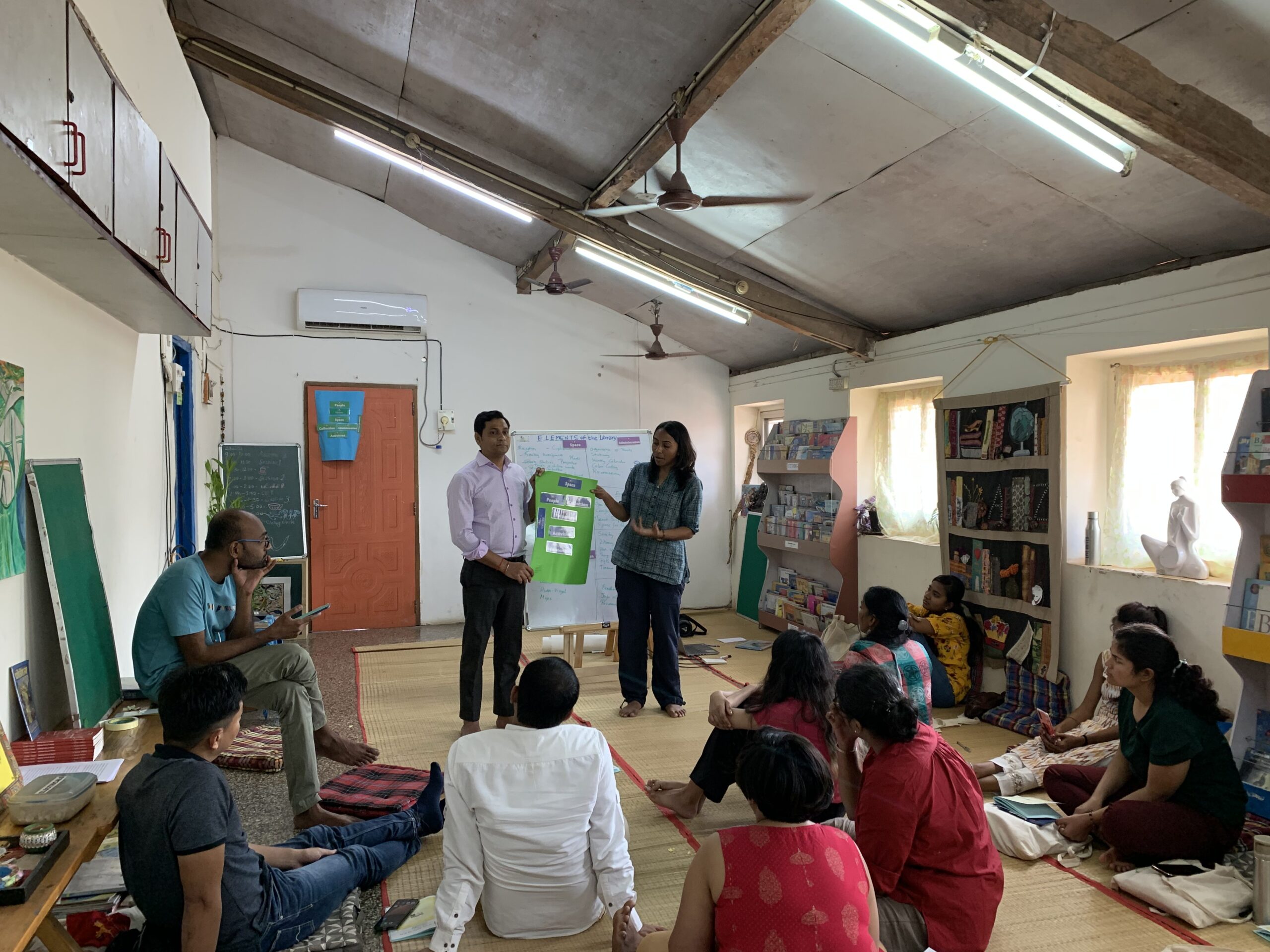 It is always a pleasure to meet people coming from different geographies with their own different stories. Listening to different languages, and dialects through laughter and anecdotes, made me feel evermore connected to the human species.
An extension of this was the beach sessions by Alia which took us through a ride of energizers and calming effects. Something in the way the day recedes, the waves retreat also makes you pause and just be there. Our bodies and our moods are so much in sync with the elements of nature (here, the sea). And what a disgrace if we fail to pay attention to this, the most abundantly available joy that surrounds us! I was sitting there watching the waves in motion. Being thoughtless for a while felt good.
One of the biggest highlights of this course was the visit to Charao island, where the Salim Ali Bird Sanctuary is located. This is also a mangrove area and I was visiting a mangrove, so closely, for the first time. Watching the variety of birds, hiking through the mangrove ecosystem, and watching the sunlight filter through the canopies was all a soothing experience.
A key part of this course is that each one of us had to choose a library practice as our assignment and work on it when we go back to our respective organizations. We are supposed to be presenting and sharing our learning of the assignment in the second part of this workshop which shall be happening in March. I chose 'Art in Library' as my topic, as this workshop piqued my interest in exploring ways to bring art into the library.
While closing the circle, we had to say one or two lines about our experience of the course. It seldom happens that I am able to sum up in one or two lines, but this time I said,
"These last six days emphasized the idea of 'endless possibilities' for me. Endless possibilities of how people can 'BE', what libraries can be, and what I can be."
---
There are a lot of things that I have been pushing myself to do since I entered the fellowship. Such as playing with art and colours, enacting and presenting when the time comes, dancing without being conscious of being in public, singing, sharing my thoughts without first thinking of the response of others, and so on. Such exposure learnings are chances to practise more of that.
The travelling part is significant for me too. I have always loved to carry some good readings on flights and at airports. I am a writer when I go to these public places, like railway stations, and bus stops as I get a chance to observe, and the waiting, the delays don't seem to bore me anymore then.
My heart fills with gratitude when I think of how valuable it is that these experiences are coming my way. Some were chosen and some were given as an opportunity by the people who value my learning. Each time I travel, I return with a humbling feeling. This time there was humbling and also a feeling of being enriched. Going with a bagful of learnings and experiences only to come back and never stop.