"Kaunsa wala khadaan dekhna hai? Sarkaari ya jo naadi kinaare hai woh ?" [Which mine do you want to see, the one which the government runs or the one near the river] asks Dau, one of the team members at Project Koshika.
Project Koshika is an initiative started and led by India Fellow alumni, working to reduce infant and maternal mortality in the tribal and vulnerable communities of Panna district in Madhya Pradesh. I was visiting to closely understand the work they are doing. During this visit, I got curious to know about the diamond mining business in this region.
About the region
Known as both 'the city of diamonds' and 'the city of temples', Panna is located between the picturesque mountain ranges of Vindhyanchal, in the north-eastern part of Madhya Pradesh. The Ken river flows through the district. There is a large group of diamond mines, covering approximately 20 acres of land. There are three types of mines :
Majhgawan is Asia's only mechanised diamond mine. Naional Mineral Development Corporation (NMDC) of the Government of India manages it.
There are mine sites designated by the district mineral department to mine owners. The latter pays Rs. 200 a year to the administration to lease a mine site and carry out the excavation work. These small mine sites are usually open-cast mines, dug using traditional techniques and hand tools.
These are mines where someone just carries out an excavation and at times, finds a diamond. I got to visit one such place that got famous (in true terms, viral) in the region.
Diamond rush
In the month of October 2022, just before Diwali, the under-construction dam site at Vishramganj in Ajaygarh tehsil of Panna, was the talk of the town. Hundreds of people from here, other nearby districts of MP and even from the neighboring state of Uttar Pradesh gathered at this dam site in search of diamonds. People had come here after watching the videos gone viral on social media and messages of people claiming to have found diamond gravel in the area.
I decided to visit the site along with Dau, who is a local resident and has been visiting the site on his day offs from work. He says that it has become a part-time job for people in the town, to dig the mines. Some of them have also hired labourers for this purpose. Along our way, we saw people crammed on a bike rushing their way to the site. As we were about to reach, there were vendors selling shovels and sieves, all tools used for finding and sorting the diamond.
The search had brought families here. People had built small make-shift huts from locally available materials like branches and plastic sheets so that they could stay near the mining site. We saw a sea of thousands of people at work – digging, sieving, cleaning and looking for diamonds. A few others saw this as a business opportunity and were selling tea, biscuits, gutka, and beedis.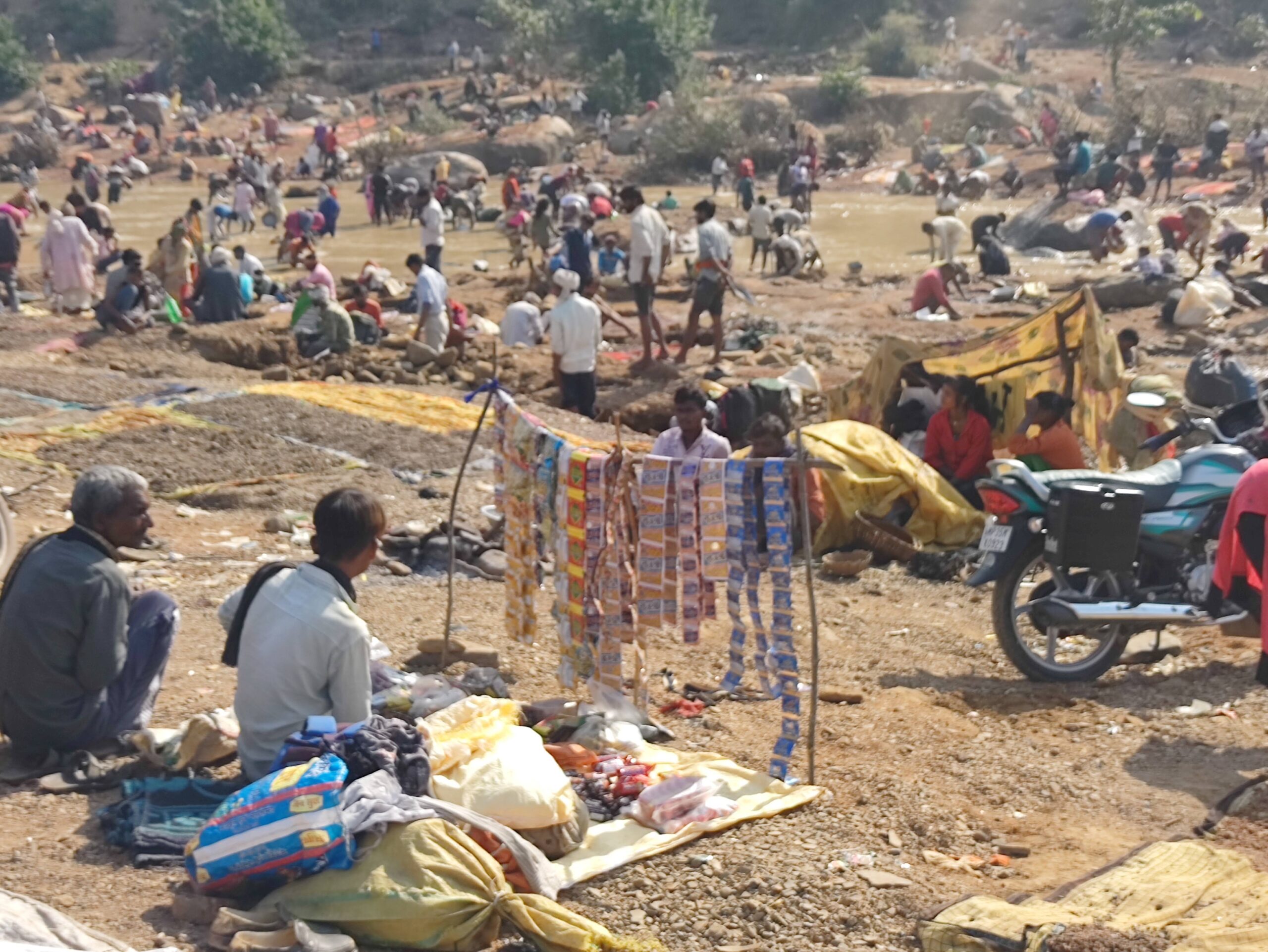 "I am here with my husband and children. A lot of people from my village are here. We were done with our farming-related activities and thought why not try our luck at searching for diamonds. Yeh sab kismat pe hai. Kya pata diwali ke pehle lakshmi ji mil jae".

– Vimla*, resident of Uttar Pradesh's Banda district
The process in open cast mining
At first, I thought that only economically weaker families or people from a specific caste were here to try their luck. But that was not the case. I found people across caste and class. The difference was that the ones who could afford had hired laborers to carry out the search on their behalf while they themselves monitored the process.
"I am from Ajaygarh tehsil. I work as a plumber in Chennai since the last 3 years. I came home to celebrate Diwali. People in my village were saying that a couple of people have found diamond here. So I joined them and thought I will try my luck. It is a lot of hardwork though. I've been searching for the last one week and haven't found anything yet. My plumbing job is better than this, at least I earn some money at the end of the day."

– Shankar*
The site where all of this was taking place is an under-construction dam site. The land will soon submerge. People wanted to try their luck before that. Officials said that the land belongs to the water resources department and anybody can dig out a pit up to 2.5 feet. But people had dug pits up to 20-25 feet without any safety gears. People told me that there have been a few injuries.
"Are you a journalist or are you from the police?", a woman asked me while sieving the soil. When I confirmed that I was neither, she went on to say, "There were a few accidents on this site which were reported by the media. After that the police started to do rounds of the area. I think they will ask us to leave soon".
All these happenings were unorganized and illegal. It was just a matter of an official intervention and all this would come to an halt. The sight of thousands of people thronging at one place to try their "luck" and taking up physically risky and taxing tasks was concerning. This, with the knowledge that it may or may not yield anything.
To hope or not to hope
While I was about to leave, a lady called out for me. She had laid all the cleaned stones, on her red dupatta, to dry under the sun. She said, "Can you click a picture of this on your phone? I have heard that the diamonds shine in the photos. I will be able to spot if there is one in this lot". "Seriously?", I thought. But I did not have the heart to dismiss her belief, I did as she asked. With the absence of a shine in the photo, I saw her smile fade.
*Names changed to maintain confidentiality
---
Reference: