India has had a long culture of libraries that served not only as a treasure trove of knowledge but also as learning spaces. Places where debates and dialogues took place. Today, the status of public libraries is dwindling.
A study conducted in 2018 revealed that in the category of Rural libraries (Govt, RRRLF, NGO, Grant in aid), Uttar Pradesh, a state with a population exceeding 200 million, has only 20 of them. In contrast, Kerala, with a population of 34 million, in the same category has 7,648. Speaking of Bihar, only 51 libraries survive out of the 540 that existed in the 1950s. Public libraries fall under the state list of the Indian Constitution. But only nineteen states have legislated a law on the functioning, funding, and operation of libraries.
Libraries largely stay dysfunctional and inaccessible, which is worrisome considering the wealth of possibilities and inclusivity they offer, especially in the face of growing learning disparities, discrimination and a growing loneliness epidemic.
In such a scenario, it brings hope and joy when organizations working on libraries. Especially community libraries, are redefining what it means to them. The term 'community library' implies something that is 'open to all'. As a part of guest editing the March issue of Samuhik Pahal, focused on children's libraries, I got a chance to interact with organizations in remote regions like Ladakh, Majuli and also in underdeveloped areas of Delhi and Bengaluru. It is incredible how diverse geographies have shaped diverse libraries across India.
Establishing The Need
A library only finds a place in the community if the community feels the need for it. The dialogue about what they think it is, whether they want it in their village, and if so, how they would like it to be, is quite crucial. Saldon from Rzamba Trust, working in the Kargil district Ladakh, shared the challenges encountered while persuading the community about the need for libraries, saying "Because we are a close-knit society, if we need anything to sustain here, we need the consent of the community".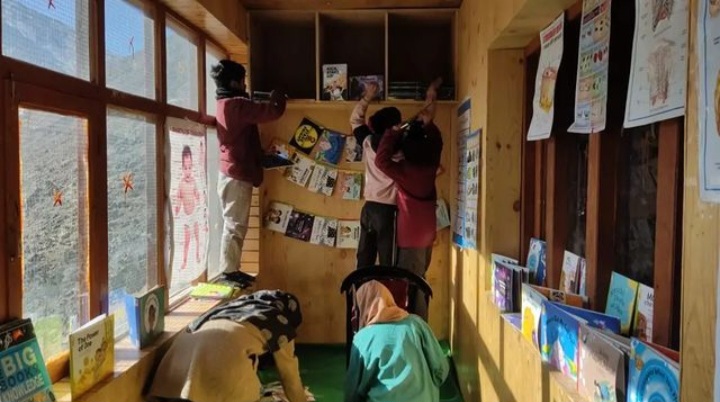 Ownership And Identity In Community Spaces
A library or any institution for that matter, could be functioning in the middle of a village and still be alien to people around. What makes it a true community library is when local people own it as a space of their own. This reminds me of a chirpy little girl in our library who boldly asked Gudiya, one of our educators, "Aye miss, pencil kahaan rakha hai?". The zeal with which she comes to see what she would read today and then goes on to fetch her lending card says it all. The exemplary behaviour of our children and community taught me the true meaning of 'ownership'. Particularly the way they painted the walls of our their library.
Ayang trust is working in Majuli islands of Assam. They shared about their democratic and participatory process of setting up a community library which involves facilitating elaborate discussions with the villagers. It emphasizes on understanding the context of the village. Ayang believes that a village's reading culture can only be developed when villagers come together and run their library. Instead of an organization doing so. The goal is that when the Ayang team gradually terminates support, the library can still function on its own.
Bridging Learning Gaps In Challenging Times
Let's Educate Children In Need (LECIN) works with communities along the Yamuna River in Delhi and Shamli, Uttar Pradesh. Their work used to focus on early childhood education. But during the Covid-19 pandemic, they began setting up pop-up libraries in different villages, marking the beginning of their community library program.
Although LECIN works in and around the National Capital Region (NCR), the communities they work with are highly secluded from the rest of the world. They live in difficult riverine catchment areas of the Yamuna. Many children were reading picture books for the first time when LECIN introduced it.
Literature That Empowers and Represents Diverse Communities
Literature can be empowering not just when a reader gets exposed to ideas, participates in conversations, dialogues, debates, but also when one gets the representation they deserve. For example, the Different Tales series of the Anveshi Project represents the stories of children which are often not covered in conventional children's literature. They touch upon themes like caste, gender, religious discrimination, and human rights.
Library As A Treasurer Of Community's Knowledge
One challenge often faced by communities and organizations is the lack of contextual literature; literature that represents the community's culture, stories and traditions. There is a lot of work happening in this area. But still, some regions and communities are left out of these efforts.
An attempt to address this concern at Prayog is by compiling folktales, songs and proverbs of the Baniya Chaapar village, in Bhojpuri. When it comes to preserving the culture, identity, and the civilization, this work is significant. Darien Statements on the Library and Librarians show us the bigger picture, the larger purpose, and how a seemingly small project or initiative could change lives. Here's how it defines the puspose.
The purpose of the Library is to preserve the integrity of civilization.

The Library has a moral obligation to adhere to its purpose despite social, economic, environmental, or political influences. The purpose of the Library will never change.

The Library is infinite in its capacity to contain, connect and disseminate knowledge; librarians are human and ephemeral, therefore we must work together to ensure the Library's permanence.

Individual libraries serve the mission of their parent institution or governing body, but the purpose of the Library overrides that mission when the two come into conflict.

Why we do things will not change, but how we do them will.

A clear understanding of the Library's purpose, its role, and the role of librarians is essential to the preservation of the Library.
With all said and done, acknowledging the power and the possibilities that community libraries could offer is not enough. They need to be supported actively by the State as well. A library today is free, mostly if it is an NGO. The rest of the public libraries still remain gated and exclusionary spaces. They have a lot to learn from these community libraries that have sprung up across India.
Public libraries offer a promise of being open and engaging spaces of learning, transcending the social barriers of caste, gender, class, and more. It is high time that the state, the policymakers and the community come together to act upon rejuvenating them.
---
Featured image from Parag initiative by Tata Trusts