In this digital age, media plays a vital role in shaping our society. Ensuring that multiple voices are heard and represented, especially those of marginalized communities, is crucial. Radio, with its wide reach and accessibility, has the potential to be a powerful tool for social transformation. A community mapping tool has been developed to empower radio program producers to understand the needs, wants, and preferences of their target communities through active participation. By involving people in decision-making processes, this tool aims to create community-centric radio programs. This would enable listeners to have a say in the choice of content.
Through this, the radio programs become a platform for communities to influence their narratives, paving the way for networking and partnerships with social organizations as well as interest groups. By focusing on the pressing issue of poverty, the tool seeks to uncover the causes and effects of poverty on the lives and livelihoods of the most vulnerable members of society. Direct consultations with them allow for a deeper understanding of contributing factors to poverty and its impact on communities.
My Role
I engaged as a team member during the toolkit study, in Feb-Mar 2023, to capture and compile the information. I experienced firsthand the toolkit's revolutionary potential for empowering regional broadcasters and tackling challenges connected to poverty. From the pre-intervention study through the post-completion analysis, this practical experience gave the participants insightful knowledge of the full project lifecycle. I could fully appreciate the value of meticulous data collection and recording by following the study's progression in a rural community setting from its conception to its end. The development of research highlighted the need for speaking with people directly to get an accurate picture of their needs.
Also read: My firsthand experience of the community radio station at Shramik Bharti
APARC chose Shramik Bharti among one of the six community radio stations in India to utilize the Community Mapping Toolkit designed by them. This was due to the organization' remarkable track record in social intervention and mobilization within remote areas and marginalized communities. It made them a natural fit for this pivotal role in addressing poverty and empowering communities through the toolkit's implementation.
AMARC's Commitment
The "Community Radios Support Particularly Vulnerable Population Groups in the Fight against Poverty in the Asia-Pacific Region" project stands as a testament to AMARC ASIA-PACIFIC's commitment to empowering community radios (CRs) to address poverty effectively. The tool kit prioritizes the reasons and issues initiated by poverty only. It tries to identify a list of issues and areas in the radio's vicinity. The tool acts as a facilitator and a participatory mechanism for the radio team, its listeners, and other key stakeholders.
It's open to any group brainstorming activities or frameworks that could lead to identification, analysis, and action-oriented measures for the issues of that particular village. Initially piloted in 2021, the project has been successful in enhancing the role of CRs in local poverty alleviation efforts. With a renewed purpose, the current project aims to further strengthen CRs by nurturing leadership capacity, promoting sustainability, and fostering the development of local broadcasters as trainers.
Community Centric Radio Programming
Here, the community is at the centre of the content development and decision-making processes. Local people actively participate in the production of programs. Their opinions, needs, and concerns are represented on air. This strategy empowers listeners by giving them a forum to interact with, talk about, and confront the topics that matter most to them.
Radio Sagarmatha in Kathmandu Valley, Nepal is a great example. It was founded in 1997 and quickly rose to prominence as the nation's first independent community radio station. Listeners are actively involved in the creation of programs. It regularly polls and consults the neighbourhood to learn about its members' preferences and issues.
The station's programming is varied and caters to the interests and requirements of its viewers. It covers everything from women's rights and agriculture to health and culture.
Image Courtesy The Nepal Times Archives
The Challenges of Traditional Radio Programs In Engaging With Communities
Due to a lack of two-way communication, traditional radio programs frequently struggle to connect with their target groups. The one-sided nature of broadcasting and the lack of listener involvement might cause a mismatch between the content and needs of the community. Additionally, in certain media organizations, economic demands and centralized decision-making may make it difficult to successfully serve local interests. In some regions, conventional radio stations may overlook the importance of using local languages or fail to address critical local issues.
Traditional broadcasters, like All India Radio, often focus on the official languages of each state. This may inadvertently exclude many local languages and dialects spoken within the community. This omission can create a sense of disconnection, particularly among those whose languages are not represented on the airwaves. This is where CR steps in, as a powerful medium to bridge this linguistic and cultural gap. Waqt Ki Awaaz, operating in Kanpur Dehat, recognizes the value of embracing the local dialect and language to ensure inclusivity and engagement.
The radio program Nazariya stands as a prime example of this approach. Every Thursday from 1 to 2 pm, the program provides a platform to engage, comment, and discuss a myriad of topics. What sets it apart is its focus on using the Awadhi language, a dialect of Hindi spoken in Kanpur Dehat, fostering a sense of connection and familiarity. By doing so, Nazariya resonates deeply with the listeners, making it easier for them to actively share their views.
Community Mapping Toolkit As The Solution
It's an effective way to bridge the gap between radio producers and listeners, ensuring that radio programs become more community-focused. It allows radio stations to interact directly with their listeners, getting vital insights into their wants, preferences, and concerns. The technology promotes participatory decision-making by allowing communities to influence content and establishing a sense of ownership in radio programs.
Through this toolkit implementation at Shramik Bharti, broadcasters were able to conduct surveys, focus group discussions, and consultations directly with their audience. As a result, they gained a deeper understanding of the issues faced by local populations. It enabled them to create content that resonated with people and contributed to effectively addressing poverty.
The Community Mapping Tool: How It Works
Planning
A preparatory discussion takes place between the Research team and Radio Station Manager. This includes introductory sessions and activities for the radio team and key informants, as part of the planning process. The research team gathers background information about the broadcasting area and residents' conditions, finalizes key informants, and plans activities accordingly. The team brainstorms new ideas to achieve study goals and start a transformative process.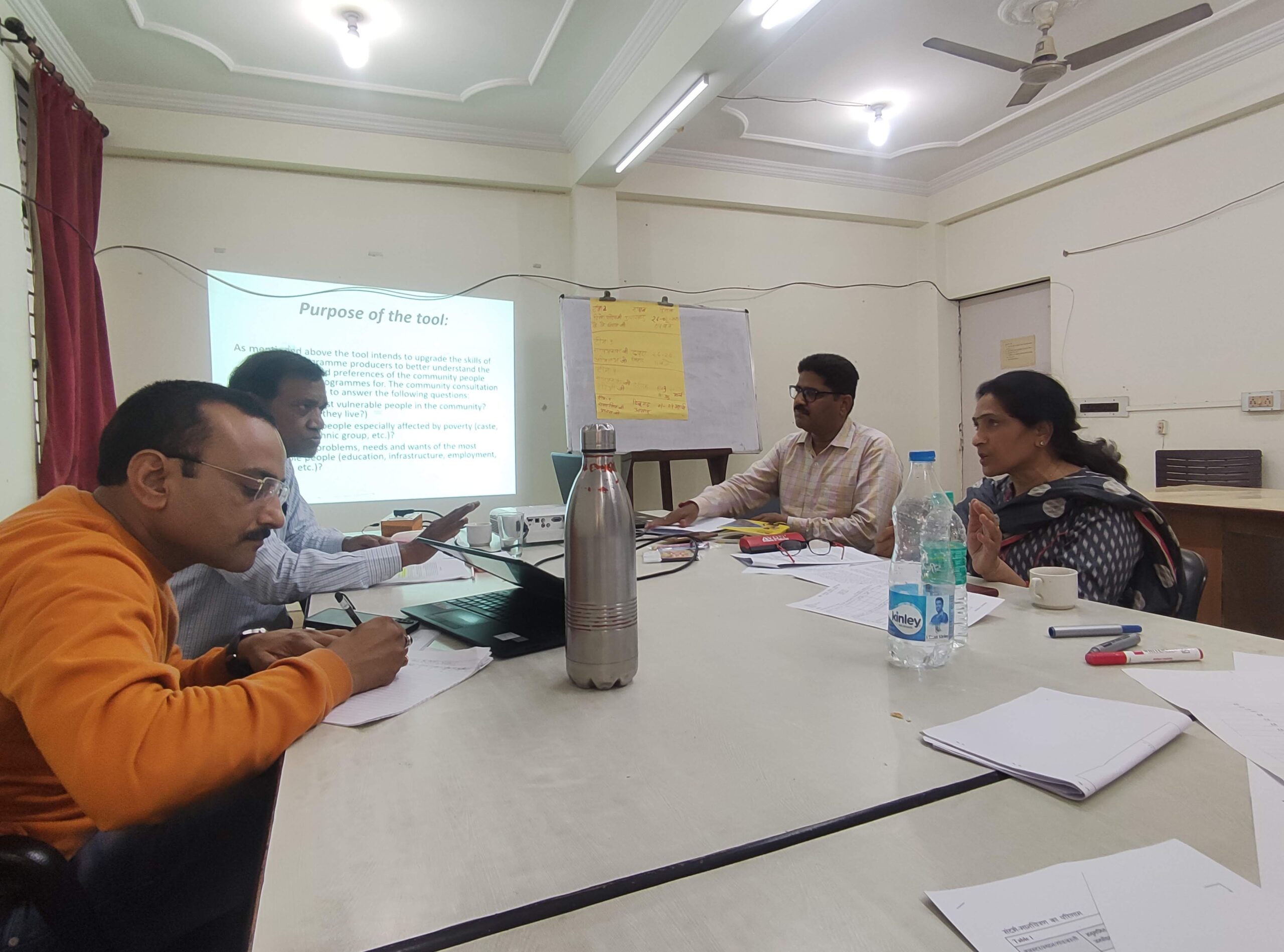 Execution
A meeting with the radio producer team was held to understand the broadcasting area's geographical area and community. A chart paper was created to select intervention areas and activities. Key informants discussed daily activities, food types, education, menstrual hygiene, beliefs, and girls' marriage age. A map was drawn to identify poverty-stricken villages, ranking them based on vulnerability.
1. Introduction and activity session with the respective radio team
An interactive session was held where the research team explained the purpose and objectives of the community mapping tool to the radio team. The team analyzed their radio programs, gaining insights into content, themes, and engagement levels. The radio team's dedication contributed to community-centric programming and a meaningful study journey.
2. Introduction and activities session with the key informants
To identify areas with high poverty prevalence and determine the need for community radio, the community mapping tool process included an interactive session with key informants, such as nurses, school teachers, and village residents. The research team chose a village with a high poverty impact to use community radio for positive change. The location is in line with our mission to empower vulnerable communities through community-centric radio programs.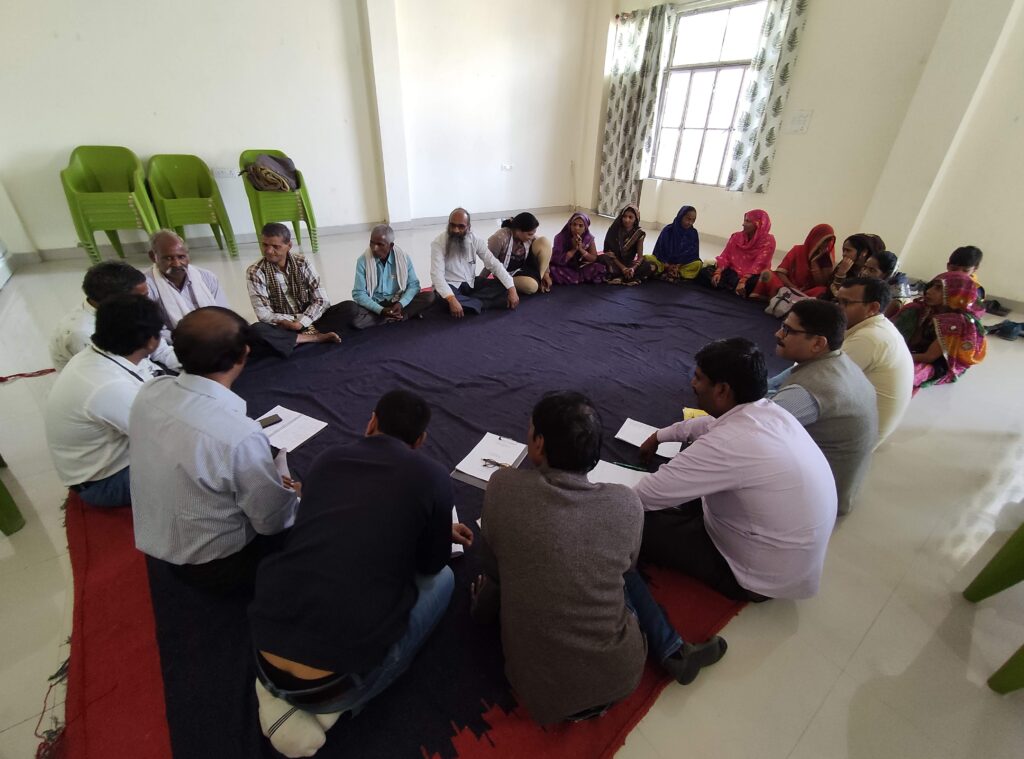 3. Interaction and activity session with the selected village population
The research team visited a poverty-stricken village and engaged them through icebreakers. They facilitated group discussions on pressing issues, presented analyses, and proposed measures. The democratic decision-making focused on the most pressing issue. Additionally, everyone's participation laid the foundation for a community-centric radio program that resonated with local needs and aspirations.
The research and radio teams observe and evaluate the community mapping tool's interaction with key informants and local people. They analyze its implementation and outcomes, identifying suggestions and recommendations for amplifying people's voices through radio programs. The team explores its strengths, challenges, and opportunities for improvement. Thus, shaping future radio initiatives for positive social change and inclusive dialogue.
A Shift in Perspective: Empowering Through Nudges
One of the most valuable and fulfilling aspects was witnessing and facilitating the interactions with the community members. It was incredibly inspiring to see how they actively engaged in identifying the major issues they were facing in their village and collaboratively brainstorming for possible solutions. As I am about to conclude this journey as an India Fellow, I am humbled by the strength and resilience of the communities I encountered.
Through this collaborative effort, we can build stronger connections, bridge gaps, and empower communities to drive meaningful change from within. The journey towards inclusive radio programming may present challenges, but the impact of amplifying community voices is immeasurable. It leaves a legacy of positive change in the lives of those we serve