Read part 1 here
We took Riya's father to a hospital in Udaipur and I tagged along to oversee the referral process. When we have patients in emergency situations or requiring treatments beyond our capabilities at AMRIT clinics of Basic Healthcare Services, we refer them to a government hospital in Udaipur.
The Referral Process
Jitendra, one of my team members, is in-charge of patient referrals. He takes care of patient's tests, coordinating with doctors, navigating the hospital's counters, and often acting as a language translator between the hospital staff and the patient. I've frequently seen his referral updates in our WhatsApp group, but I'd never seen the entire referral process firsthand.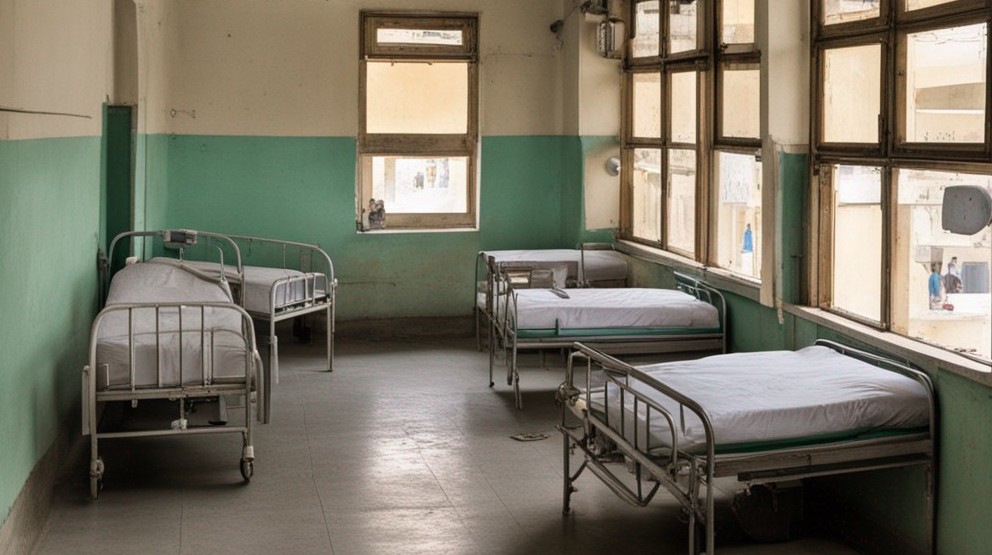 I don't really like being in hospitals but this experience was necessary. Accompanying the patient were family members – Riya, her mother, and grandfather. They were unable to manage the consultation process independently. The grandfather had difficulty hearing, and the mother was occupied caring for the 7-month old Riya.
We asked them to sit in the waiting area while I followed Jitendra and the patient from one room to another. After the doctor's consultation and an X-ray, we had to again wait for the next medical professional. During this time, another of our team member and I stepped out to assist a colleague with an iPad purchase.
Apple And Exclusivity
Owning an Apple product recently has left me with mixed feelings about such exclusive items. The naming of the product itself excludes people and creates a distinction. Consequently, you won't just forget your phone at the meeting; you will forget your "iPhone". You won't video call, you will "Facetime".
Irrespective of the privacy, security and convenience these products offer, they set you apart from the crowd. After having bought one product, the company subtly, yet effectively, influences further purchases. Interestingly, we think it's a choice we have made when it's simply foot- in- the- door technique. It is so powerful that an initial purchase often leads to acquiring an entire set of products. A never-ending loop.
Also read: The Connection Between Game of Thrones and Your Wallet
In reality, we often surrender to this allure, despite being conscious of its manipulative nature, probably because of lack of control. Participation seems to be a necessary compromise in this modern era. Have I given in, too? Yes, I've come to terms with the notion that "Modern problems require modern solutions which further create modern problems."
That evening, while my colleagues were making the purchase, I grabbed a quick meal, which served as both lunch and dinner. Hunger takes a back seat on days like these, reminding me of these words…
Aur Bhi Dukh Hain Zamaane Mein,
Muhabbat Ke Siva
Raahatein Aur Bhi Hain,
Wasl Ki Raahat Ke Siva

Faiz Ahmed Faiz
Patient Care and Caregiver's Position
Our patient's procedures were still ongoing, so we visited another colleague's relative at the hospital. The only way to locate her was to search each floor. In the end, we found her in the cancer ward. The ward's appearance reminded me of a local train station to say the least. As unhygienic and chaotic. This was the situation of the hospital.
On looking closely, it was kept like this because most patients belonged to tribal communities or other socio-economically disadvantaged groups who couldn't afford proper care. They were left to fend for themselves. The staff would come as per their convenience and often treats these patients without the basic dignity. I felt horrible on seeing this side of the hospitals and it made me appreciate our clinics even more.
In comparison, I recalled visiting a high-end hospital in Gurgaon, which looked more like a shopping mall to me. Such a stark contrast. This is what bursting the bubble means!
Sadly, our colleague's relative, diagnosed with Gallbladder Cancer, passed away, in less than two months. Returning to our patient, the final diagnosis after three x-rays was Appendicitis, and he needed to be admitted for surgery the next day. While exiting the hospital, I asked Jitendra how he copes with witnessing severe illnesses daily. In response, he began singing a song…
Aate jate khoobsurat awara sadko pe
Kabhi kabhi itefaq se kitne anjaan log mil jate hai
Un mein se kuch log bhool jate hain
Kuch yaad reh jate hain

Kishore Kumar
While it didn't directly answer my question, it provided solace. On our way back, Jitendra shared the story of Pannadhay Zanana Hospital and why it is named after Panna Dai, a nurse maid who made a great sacrifice. I was left with thoughts of our society glorifying sacrifices made by women as I reached home at 12:30 am, weary and contemplative. As I lay down, thinking about the next day, my imagination gradually transformed into dreams.