In the area where I work, families often migrate seasonally for labor. They move from their home state, the 'source', to other states, the 'destination'. Kushalgarh, the town I reside in, lies in the southernmost part of Rajasthan, India. Many of its inhabitants migrate to Gujarat and Madhya Pradesh for unskilled labor. For an official trip to one of these destinations in Gujarat, I chose to make the journey on a state transport bus departing early in the morning.
My colleague dropped me to the bus stand at 5 AM. I was excited for my first visit to the destination. Along with me, there were eight other passengers waiting for the same bus. Their families had come to drop them off, some of them huddled under a nearby tree. After a short while, a middle-aged woman approached me, holding a baby. She inquired about my destination, and after I told her that I'm going to Ahmedabad, her face broke into a sigh of relief.
She asked if I could look out for the girl standing beside her since she is alone and it's her first time out of town. I readily agreed to help and shared my number with her so that she could stay in touch with me throughout the journey even if we don't get to sit together.
Neeti* appeared to be a teenager. She came and stood next to me with a wide smile. The middle-aged woman gave the baby to this girl and pointed to 6-7 huge bags and sacks that were to be loaded on the bus. She also instructed me to help Neeti unload it after reaching the destination as she wouldn't be able to do it while holding the baby. I felt confused. The bus soon arrived, and Neeti, now cradling her eight-month-old son, found a seat beside me. The woman, who I learned was Neeti's mother-in-law, busied herself with stuffing the luggage under our seats.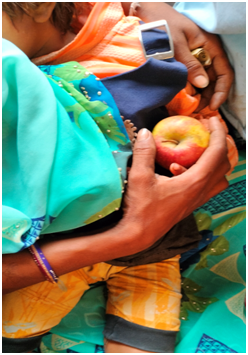 Neeti put the baby to sleep and we both slept after buying the ticket. An hour into our journey, the sound of the baby crying woke us from our slumber. The bus had stopped for a tea break somewhere near the Rajasthan-Gujarat border. But the risen sun had already made it too hot. Neeti had to change the cloth diaper of the baby and was worried if the bus will leave once she gets down. I reassured her that I would ask the bus driver to wait, so she went with a water bottle in one hand and her child in the other. As anticipated, the bus prepared to leave before her return. But I managed to hold it until she came back, running. Once settled, Neeti fed her baby, and we began to talk.
She was only 17 years old, and had been married right after her tenth grade. She had wanted to pursue further studies but was now waiting to do it once her child grows up. Her husband had been working in Gujarat for a month. Neeti was on her way to join him in a one room rented house there. Her luggage was full of household essentials including utensils, clothes, stove, cylinder, rice and other everyday items. She was excited to meet her husband and even borrowed my phone to call him but got worried when he denied coming to pick her up from the bus stand. Meanwhile, her mother-in-law was in constant touch, concerned about Neeti traveling by herself.
How will I navigate a place where I was going for the first time, that too with a child and so much luggage – she thought to herself.
After a point, Neeti seemed okay irrespective of what was happening around. Throughout our six-hour journey, our conversation led to a lot of topics, but often found our way back to her aspirations of continuing her education. Her situation made me think why she had to undertake this journey alone. When I asked her, she took some time to respond to it. After a few minutes, she said that she didn't ask anyone for help. Perhaps that's why no one had accompanied her.
We then discussed the common struggle to recognise our needs and understand those for people who are close to us. Often, we ignore it and normalise the unreasonable challenges so much that it becomes okay to just say, "chalta hai, main karti hu" (it's okay, I'll do it) even if we want to scream no. With this, we reached our destination.
I held the baby while she unloaded the luggage. No one had come to pick her up, she was unable to reach her husband on phone inspite of calling him continuously, and didn't know the address. With the baby crying and the luggage scattered around, she felt lost. As the phone connected, we realised that since her husband is also new to the city, he himself is unable to understand where we are. Along with the help of a few auto and taxi drivers who had already observed us to be worried, we managed to tell him where exactly we are standing. He arrived and a wave of relief washed over us. He took the baby from me into his hands.
Neeti and I hugged for a brief moment before we parted ways, I running to the car that came to pick me up and she getting an auto-rickshaw while holding the baby. Her husband held the sags in both hands. Ready or not, they were starting a new chapter of their life. After this, I got a chance to interact with migrant women and understand their experiences. That's a story for another time.and what transpired on the journey with a co-passenger.
---
*Name changed to maintain confidentiality