As part of my fellowship, I've got an opportunity to work in two different climatic, cultural and geographical settings where I could observe certain aspects which are totally in contrast in the two places.
My host organization Aavishkaar is located in Palampur, Himachal Pradesh, an invigorating place with a pleasant environment where pollution is in its infant stage and sceneries all the way. Mountains, snow, greenery, tourism, tea gardens, birds, Monasteries, waterfalls etc…these are some common visuals of Himachal Pradesh. The other organization I work is Nari Gunjan which is located in Danapur, Bihar, a place with huge historical significance, the Magadh Rajya. The enticing flow of the river Ganges, the enlightening breezes of Bhudhism, a place where sweat and hard work never ends. History, forts, temples, Chath Puja, sunny days, tamtams, hills, these are some things which represents Bihar.
If we consider the population of both the states, Bihar is at 12.5 crore which is approximately double the population of Himachal Pradesh. Due to the huge population of the state, it has a paucity of natural resources. After the bifurcation of Bihar, all the industries and factories got confiscated in Jharkhand. So the people of Bihar are dependent on migrant works, government jobs, and businesses. But in Himachal Pradesh, the whole state's economy runs by using the natural resources available as they are abundant for the present population. Hydropower, agriculture, tourism are the important constituents of earnings.
As the geography of Bihar is an almost flat surface, its easy to set up living. But in Himachal, its costly to set up living in the mountain valleys and also Himachal government has restricted other state people to buy or purchase land in the state. One should be either a resident of Himachal or relatives/guardians should be a Himachali.

Coming to climate, Himachal is at an average height of 1,475 m above sea level, which keeps the state cooler and rainy. Summers will be warm as normal room temperature. But Himachal Pradesh has the danger of landslides which is a natural calamity that happens frequently. Bihar is just 173 feet above sea level and north Bihar is highly flood prone area as the landscape elevation is low, the banks of the river overflow and floods the nearby lands when there are heavy rains. Bihar is a state where summer makes people burn, winter gears up the use of sweaters, rains overflow, and springs be the best. It makes us taste all the seasonal flavors in full glory
As the population gets increasing, pollution starts to increase. Bihar is considered as the third most polluted state in the country. Usage of diesel and petrol vehicles, increase of construction works, very poor waste management techniques, all these factors are root causes of pollution. But in Himachal, people mostly use public transport as it costs more to travel long distances on own vehicles, construction is very eco-friendly where most of the houses are made of mud, stones, and bamboo which can be easily recycled.
But considering waste management techniques, Himachal also lacks big time. It's very hard to find a dustbin nearby wherever you are. People in Himachal throw their waste in the river streams which flows besides their houses. This water takes down all the waste to the downhill agricultural fields and pollutes. Himachal has recently banned polythene to reduce plastic disposal. But still, there is no will and/or awareness amongst the people that it is very hazardous to throw their wastes in the river streams.
In the human race for a 'better' life, Bihar is one of the states in India which is trying to make its stand. Bihar has been accustomed to certain attributes which are very difficult to resolve in less time. There is a high acceptance of corruption and nepotism in the state which was rooted since 10 centuries because Bihar was always ruled by an outsider – they never had their own ruling and authority in their state. Pala and Sena dynasties ruled from Bengal, Mughals ruled it from Delhi, After Mughals, Sher Shah continued. Nalanda University was burnt out. In the 17th century when Bihar slowly started developing with the textiles industries, the British came and sat on them. Just after the British, the Zamindars entered and looted all the lands. all this has taken its toll. There was no way for the people to stand on their own feet unless they bow to someone. And that is why a Bihari's hard work and sweat could always be seen in other states, but not in their own state.
Education quality is not developing, health care is neglected, and responsibility to keep their state clean and green is not being induced. But as technology and internet has rapidly escalated, literacy rate is being increased and the state has slowly started moving towards some positive signs. A lot of catching up is still pending though and moving forward with so much baggage is not an easy job.

Considering Himachal, the state has made significant achievements in the field of production of electricity. The rich natural resources are suited favorably for agriculture, hydro projects, and tourism. As there is good economic growth, literacy also stood at an admirable position with 82.5%. If gone through history, the state has always been constructive since 1930s. The Shimla conference was one of the milestones of Indian History for our independence, where great leaders of our country and British Viceroy had lengthy conferences and finally achieved peaceful independence. On 25th Jan 1971 Indira Gandhi announced Himachal Pradesh as an independent state, and the state started growing rapidly. There was also princely ruling for some period but it was not dominated or controlled by the king for his growth – they had a good governing system for the benefits of the people.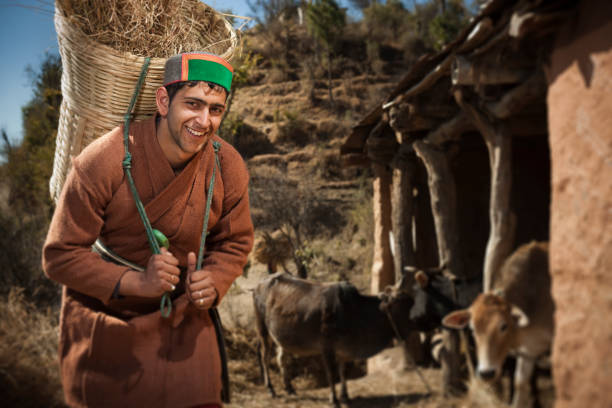 So if we compare the situations of both the states, The initial steps of the state are the major factors for its growth and development. As it is said "plants should always be molded at its initial stage, otherwise it is difficult to mold it after certain period". All these effects impact on the attitudes of the people. People of Bihar got inured to the systemic propagation since ages, and they also are less hopeful of the system being their friend. The most common phrases of Bihar people I hear is "Arey sir kitna bhi karo kuch nai hone wala yaha, kyu tension le rahe ho" or "Sir ye mera kaam nai hai, mein kyu karu, jisko karna hai usko samjao". This is not the people's mistake, it is how they have seen and grown. Anything to be changed should be from the top.

For the people in Himachal, everyone has peaceful lives without any external forces. They grow their own food, they also tame goats, sheep, cows and earn money, they get work where they live, so no problem of migration, they are surrounded by very few people, where maintaining relations with each other is nice and easy. All these keep them cool and calm. And also the weather matters too. Some common phrases I hear from Himachali people are "Sir aap bahut door se aye hai yaha tak, hamare liye aur kuch behtar karke jayie na, acha hoga" or "Arey Sir, koi baath nai, mereko bathado mein karloonga, aap kyu tension le rahe ho".
The "kyun tension le rahe ho" of the 2 states pretty much sums up the state of things.

---
This piece is not a research article, but more perceptions and insights of the author from living and working with non-profits in both regions and interacting with the communities.
*Images credit – Creative Commons / Google Maps